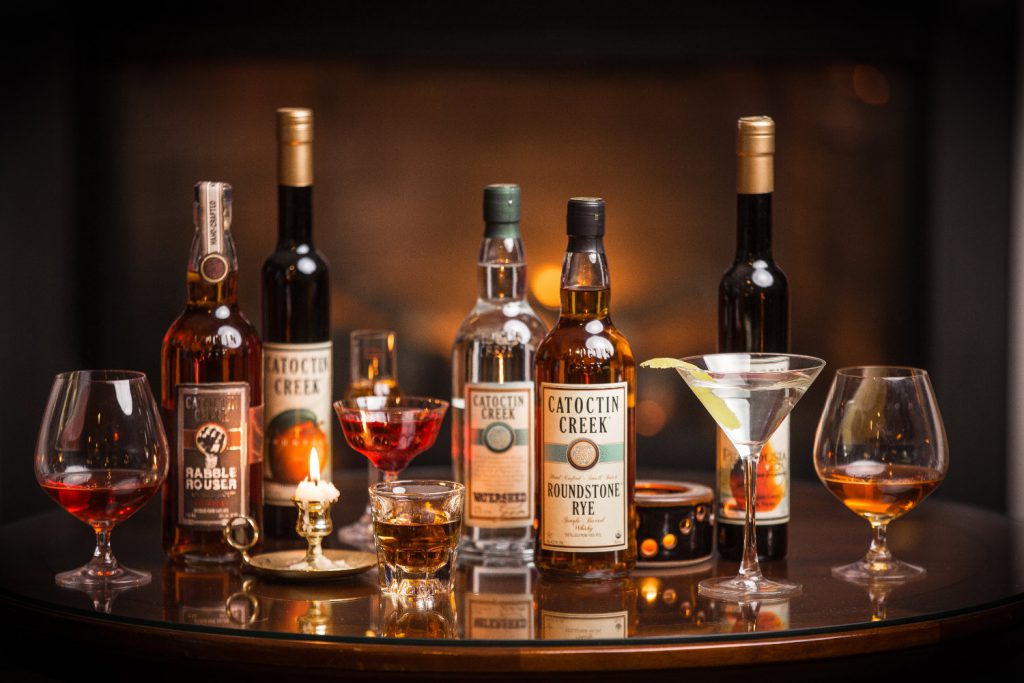 January 5, 2017 – Three business days into the new year is all it took for the first distillery deal to be announced in  2017, as Constellation Brands has acquired a minority stake in Virginia's Catoctin Creek Distillery. Becky and Scott Harris, who founded the Purcellville distillery in 2009, continue to own the majority of the company and will continue to run the day-to-day operations. Terms of the deal were not disclosed, and while the transaction closed in the fall of 2016, it was announced today in conjunction with Constellation's release of its quarterly earnings.
"The whole industry is trending toward consolidation," Scott Harris said in a telephone interview. "We had created a business that was profitable…very thin profits, and not enough to really generate some capital for growth of the business. You kind of are always up against payroll, cash flow, and things like that, so even a profitable business like ours – the profits can be close to razor-thin." With bank financing difficult to obtain, the Harrises decided investment from a strategic partner was their only route. "We just had an instant chemistry with them (Constellation), they really understood what we were doing…for such a large company, they're run like a small family-run company themselves, and the key people that came down that we've been dealing with were really salt of the Earth and understood what we were doing."
"We didn't want somebody that would come in and say OK, well…we're going to now start making bubble gum-flavored whiskey…that was something that we were never going to be interested in…"
Listen to Mark Gillespie's interview with Scott Harris:

The investment will help fund an expansion of production and distribution for Catoctin Creek's spirits, which are now available in 14 states. The Harrises plan to start work on expanding that with a goal of adding 10 to 14 more states by the end of 2017, and Scott Harris said Catoctin Creek has enough mature stock on hand to handle increased demand from retailers.
The distillery produces Roundstone Rye and Rabble Rouser rye whiskies, along with the unaged Mosby's Spirit and a range of gins and brandies. According to Scott Harris, new fermenters and other equipment are in the process of being ordered for the distillery that will double annual production, and negotiations are underway for additional maturation warehouse space. There is enough room for expansion in the existing distillery, which opened in 2013 after the Harrises restored a historic building in Purcellville and moved operations from the original site in a nearby industrial park.
Catoctin Creek's spirits have won a number of awards, and the distillery was a finalist for U.S. Craft Distiller of the Year in Whisky Magazine's 2016 Icons of Whisky Awards. Becky Harris was a finalist for Master Distiller of the Year in the same competition.
The move is the third in recent months for Constellation, which has been aggressively expanding its portfolio in the U.S. craft spirits sector. In October, the New York-based company paid $160 million for High West Distillery in Utah. As with Catoctin Creek, High West's existing management team remained with the company after the deal, and at the time, Constellation's executive in charge of its wine and spirits division, Bill Newlands, cited the company's desire to build a high-end spirits portfolio. The company also acquired a minority stake in the new Bardstown Bourbon Company distillery in Bardstown, Kentucky, which began production in the fall of 2016.
Constellation is the third-largest American brewer, and generates most of its revenue from sales of Corona beer along with a premium wine portfolio. Last month, Constellation sold its entire Canadian wine business to the Ontario Teachers Pension Plan for $776 million (USD), and today reported third quarter sales of $1.8 billion.
WhiskyCast has also requested an interview with Constellation Brands executives, and this story will be updated with more information.
Editor's note: This story was updated with additional information following an interview with Catoctin Creek's Scott Harris. 
Links: Catoctin Creek | Constellation Brands