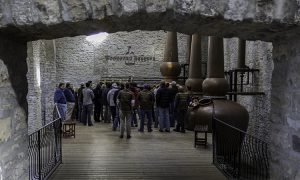 May 24, 2017 – Shares of Constellation Brands dropped slightly more than one percent in Wednesday's trading on the New York Stock Exchange as Brown-Forman publicly rebuffed a reported takeover offer, while so-called "B" shares of the Brown family-controlled spirits company rose nearly two percent. Brown-Forman chairman Geo. Garvin Brown IV and CEO Paul Varga issued a statement after the close of trading on behalf of the Louisville-based company emphasizing the family's desire to keep Brown-Forman independent.
"As a matter of corporate policy, Brown-Forman does not comment on market rumors or speculation. However, it is important to reiterate that Brown- Forman is not for sale. For nearly 150 years, the Company and the Brown family have been committed to preserving Brown-Forman as a thriving, family controlled, independent company. That commitment is unchanged, and our goal is to continue creating value for all shareholders for generations to come."
According to CNBC, Constellation Brands approached Brown-Forman with an offer to buy the company, in which the Brown family controls a majority of the voting stock. Constellation, which is controlled by the Sands family and owns Corona beer, has been actively trying to expand its spirits portfolio over the last year. The CNBC report did not specify how much Constellation was offering, but Brown-Forman's current market capitalization is around $21 billion USD according to Bloomberg data. By way of comparison, Constellation's market cap is estimated at $34.8 billion USD.
Historically, Brown-Forman has been more interested in acquisitions than in being an acquisition target, as evidenced by the Brown family's nearly 150 years of ownership. In the past, Brown-Forman owned a number of other consumer brands, including Lenox china and Hartmann luggage. However, it sold those brands in 2005 and refocused on its core spirits and wine businesses. Brown-Forman's "B" shares have gained 13 percent in value over the past year as the company's sales of Jack Daniel's, Woodford Reserve, Old Forester and other brands have benefitted from global demand for American whiskies. The company expanded into the Scotch Whisky market last year with its acquisition of the BenRiach Distillery Company and its three distilleries (BenRiach, GlenDronach, and Glenglassaugh), and has just debuted its new Slane Irish Whiskey brand, with construction of a new distillery at Ireland's Slane Castle scheduled for completion this summer.
Links: Brown-Forman | Constellation Brands