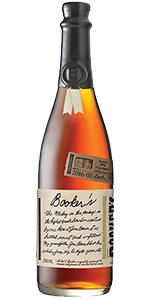 January 2, 2017 – Three weeks after announcing plans for a 66 percent increase in the price of Booker's Bourbon in 2017, Beam Suntory has reversed course. In a statement provided Monday evening to WhiskyCast and Fred Minnick, who first reported the decision, Beam Suntory executives confirmed rumors of a change that had been circulating over the New Year's holiday weekend.
On December 9, the world's largest Bourbon producer announced that it would raise the recommended retail price for Booker's from $59.00 (USD) to $99.99 starting with the first batch release in 2017. That move led to intense criticism on social media over the holiday period, overshadowing the final 2016 release of Booker's in mid-December. No reason was given for the decision to change the pricing strategy, nor was it specified when the recommended retail price will reach $99.99. Now, a Beam Suntory spokesman has confirmed that the company "misspoke" when it confirmed to WhiskyCast in December that the increase would take effect with the first 2017 release, and that the plan all along was to raise prices effective January 1.
In its statement, Beam Suntory confirmed that the plan to reduce the number of annual releases of Booker's from six to four will stand due to coming supply shortages.
As we've previously shared, Booker's Bourbon will experience supply constraints this year. As a result, we must reduce our batch releases to four per year. We apologize to anyone who is unable to locate the product in the future. Because of the rarity and high quality of this liquid, and our need to maintain our supply without sacrificing any production standards, we have decided to increase the price of Booker's. We'll be implementing the previously announced price increase over time, and in 2017 you can expect to see Booker's on shelf for $69.99-$74.99.

We would like to thank our friends and fans for their ongoing support, and we promise to maintain the same quality standards that Booker demanded of his namesake bourbon despite our supply challenges.
Part of the criticism was due to retailers who raised their prices for current releases of Booker's to take advantage of the coming price increase, which would likely not have come until March or April with the first 2017 release. Those retailers included one of the nation's largest liquor purchasers, the Pennsylvania Liquor Control Board, which is the only liquor retailer allowed by law in Pennsylvania. The PLCB raised prices on Booker's effective with the new year, as members of the Pittsburgh Bourbon Club pointed out Monday on Twitter.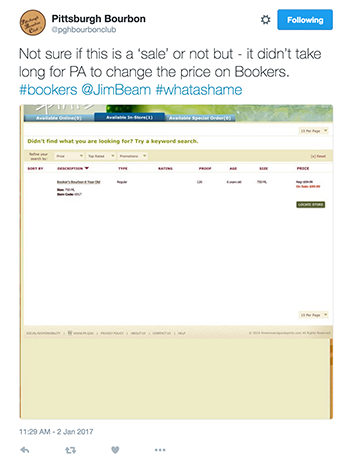 In a series of emails Tuesday to WhiskyCast, PLCB spokesman Shawn Kelly said the state agency would be changing its price for Booker's to $69.99 to reflect the change in Beam Suntory's pricing strategy, but that the change would not take effect until Wednesday when the agency's pricing database can be updated system-wide. Kelly noted that both the original price hike and the rollback were done "at the request of the vendor," and said that anyone who purchased Booker's from one of the state's stores or the PLCB web site this week at $99.99 should keep their receipts and contact the agency's consumer relations office in Harrisburg.
The Pennsylvania price hike also generated criticism on social media, such as this comment from Doug Weschules of Downington, Pennsylvania on the WhiskyCast Facebook page.
"Booker's did not exactly fly off the shelves at $54.99 on sale in PA. Let all of it gather dust to send a message."
This is not the first time Beam Suntory has changed a marketing decision in the face of consumer criticism. In February 2013, before Beam was acquired by Suntory, Maker's Mark Bourbon announced plans to reduce the bottling strength of its whisky from 45% ABV to 42% in order to stretch limited supplies. The resulting consumer backlash forced Maker's Mark to reverse the decision in less than a week, even though thousands of bottles of the lower-strength Maker's had already been shipped to distributors and on to retailers.
Beam Suntory has not made executives available for interviews to discuss the strategy change, and a company spokesmen asked WhiskyCast to submit questions in writing. These are the questions we're hoping to get answered:
Why did Beam Suntory decide to change plans for the Booker's price increase?
How much of a role did the social media reaction play in that decision?
Was there pushback from retailers to the price increase, and did that play a role in the decision?
What happens now with retailers that have already jumped the gun and raised their retail prices on current stock to take advantage of the RRP increase, such as the Pennsylvania Liquor Control Board, which raised its retail price on Booker's as of January 1 to $99.99?
When do you expect to release the first batch of Booker's in 2017? 2016-6 just came out a couple of weeks ago, and since the original plan was to implement the RRP hike with the first release of 2017, that becomes a key factor in the timing of retail price hikes. 
This story will be updated as more information becomes available, including any answers we receive to the above questions.
Editor's note: This story was updated to include a statement from Beam Suntory that the company mistakenly confirmed in December that the Booker's price hike would take effect with the first 2017 release, instead of taking effect on January 1. It also includes the Pennsylvania Liquor Control Board's instructions for consumers who may have paid the higher price for Booker's. 
Links: Booker's Bourbon | Beam Suntory | Pennsylvania Liquor Control Board