WhiskyCast is where it all begins. Now in our 9th year, each weekly episode brings you the latest in whisky news, along with the latest events, tasting notes, comments from other listeners, and the weekly "In-Depth" segment features interviews with the people who help make whisky the "water of life".
---
Graeme Macaloney gave up a secure career in the pharmaceutical industry to pursue his dream of making whisky, and the Scottish expat is getting closer to realizing his dream. He's hoping to begin construction on the Victoria Caledonian Distillery in Victoria, British Columbia soon, and has already brought Dr. Jim Swan and former Diageo distillery manager Mike Nicolson as consultants. Graeme explains why he and his family mortgaged their future (and their house) on his dream on this week's WhiskyCast In-Depth.
In the news, Wild Turkey's Eddie Russell joins us to discuss his promotion to Master Distiller alongside his father, the legendary Jimmy Russell. We'll also look at whisky economics in Scotland, where a new report estimates the industry's economic impact at £5 billion annually. There's word on new whiskies from anCnoc and GlenDronach, and this week's tasting notes include whiskies from Kentucky, Texas, Scotland, and France!
Links:
Victoria Caledonian Distillery
|
Wild Turkey
|
Kentucky Bourbon Trail
|
Scotch Whisky Association
|
Icons of Whisky Awards
|
Diageo
|
anCnoc
|
GlenDronach
|
The Green Welly Stop
|
Spirit of Speyside Festival
|
Ranger Creek
|
G. Rozelieures
---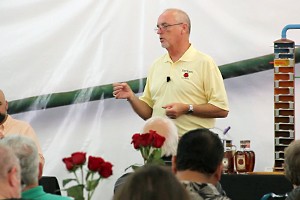 Kentucky's Four Roses Distillery announced this week that supply problems will prevent this spring's release of the annual Four Roses Limited Edition Single Barrel Bourbon. In his first interview on the subject, master distiller Jim Rutledge explains why dropping the limited-edition release will make more single barrel bottlings available to consumers, along with the prospects for bringing back the annual release in the future. In the news, Scotch Whisky producers are preparing for a fight with Westminster over taxes, we have more details on last weekend's Sunday Herald report about water usage violations at some Scottish distilleries, US regulators are cracking down on vague age statements, and there are new whiskies to talk about from Woodford Reserve and Glenmorangie. Finally, tasters at an event planned for Valentine's Day in London may really detect a note of sweat in their whiskies…
Links:
Four Roses
|
Scotch Whisky Association
|
Sunday Herald
|
Tax & Trade Bureau
|
Woodford Reserve
|
Glenmorangie
|
London Distillery Company
 |
Bompas & Parr
|
Kilbeggan
|
Classic Malts
|
The Macallan
---
In the second of our two episodes from this weekend's Victoria Whisky Festival, we'll catch up on more of the week's news – including more details on the $50,000 bottle of The Balvenie 50 stolen in a Montreal robbery Thursday and a Scottish newspaper report that several distilleries are in hot water with environmental protection officials over using too much water. We'll get the latest on new whiskies from Springbank, the revival of a historic blended Scotch brand, and Corby's Dr. Don Livermore clears up more misconceptions about Canadian Whisky.
Links:
Victoria Whisky Festival
|
Wiser's
|
The Balvenie
|
Sunday Herald
|
Whyte & Mackay
|
Gordon & MacPhail
|
Tullibardine
|
Highland Queen
|
Victoria Spirits
|
Springbank
---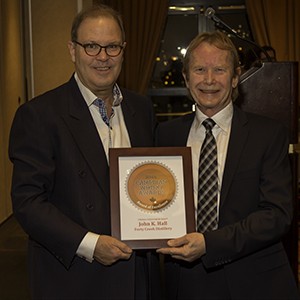 We're on the road for the first time in 2015 this weekend, with the first of two episodes from the 10th annual Victoria Whisky Festival in Victoria, British Columbia. The weekend kicked off with the annual Canadian Whisky Awards presentation Thursday night at the Hotel Grand Pacific, including a special Lifetime Achievement Award presented to Forty Creek founder John Hall. We'll hear from John and Canadian Whisky Awards founder Davin de Kergommeaux on WhiskyCast In-Depth. In the news, Montreal police are looking for a robber with very expensive taste in whisky following a holdup Thursday at the SAQ's flagship store in Montreal, Collingwood Rye takes Canadian Whisky of the Year honors, and Beam Suntory plans to export Alberta Premium for the first time.
Links:
Victoria Whisky Festival
|
Canadian Whisky Awards
|
Forty Creek
|
Canadian Club
|
Corby
|
Alberta Premium
|
Collingwood
|
Crown Royal
|
Jim Beam
|
Douglas Laing & Co.
|
Glenmorangie
|
Glenglassaugh
---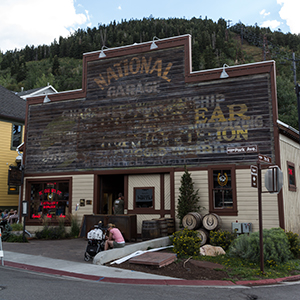 On New Year's Day, David Perkins and his team at Utah's High West Distillery fired up the still at their new distillery for the first time. High West has been making whiskey since 2009 at its historic distillery and restaurant in the heart of Park City, and while the current distillery will continue, the bulk of High West's production will eventually come from the new facility located on a dude ranch and resort along Interstate 80 a few miles north of Park City. Perkins joins us to discuss the new distillery on this week's WhiskyCast In-Depth. We'll also have details on the latest chapter in the Balcones saga, a fake whisky scam in the UK, new whiskies from Aultmore and Balblair, and tasting notes on whiskies from Glencadam, Glenfiddich, and a new single barrel from Crown Royal.
Links:
High West
|
Tate & Company
|
Balcones Distilling
|
Scotch Whisky Association
|
Balblair
|
Aultmore
|
Glencadam
|
Glenfiddich
|
Crown Royal
---
Irish whiskey will take another step in 2015 with the first exports of Yellow Spot to the US market, still the strongest market in the world for Irish whiskey sales. While Yellow Spot is produced by Irish Distillers at Midleton Distillery near Cork, the brand is owned by Dublin-based whisky and wine merchant Mitchell & Son. Robert Mitchell is the latest family member to head up the 210-year-old business, and joins us to discuss this month's US launch of Yellow Spot, along with the global potential for Irish whiskey sales. In the news, Japan's Nikka Whisky is mourning the death of former president Takeshi Taketsuru, the adopted son of founder Masataka Taketsuru, Chip Tate is expected to announce more details on his new Texas distillery this coming week, and Laphroaig will revive its 15-year-old Islay single malt for 2015 as part of the distillery's 200th anniversary celebration.
Links:
Mitchell & Son
|
Nikka
|
Financial Times
|
Waco Tribune
|
Laphroaig
|
Oban
|
Midleton Very Rare
 |
GlenDronach
---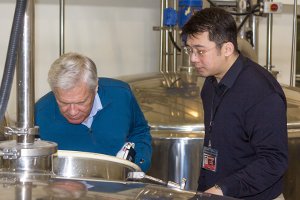 As we close out 2014, we'll hear from the man some might call "The Whisky Whisperer" for his ability to coax young distilleries into producing spirit that's mature after just a few years. Dr. Jim Swan's client list includes Penderyn, Kilchoman, and Taiwan's King Car Distillery, which took the top two spots in this year's Malt Maniacs Awards with Kavalan Solist single malts. He's also involved with new distilleries in Scotland and England, as well as projects around the world, and will share some of them with us on this week's WhiskyCast In-Depth. We'll have the latest on plans for another expansion at The Glenlivet, along with new whiskies from Bruichladdich and Woodford Reserve, and this week's tasting notes focus on Tomatin's Cuatro series of identical single malts finished in four different types of sherry casks.
Links:
Kavalan
|
Malt Maniacs Awards
|
The Glenlivet
|
The Press & Journal
|
Lindores Distillery
|
Bruichladdich
|
Woodford Reserve
|
Roman Stanek on YouTube
|
Annandale Distillery
 |
Cotswolds Distillery
 |
Tomatin
---
Each year, the Malt Maniacs honor some of the world's best whiskies with the Malt Maniacs Awards. This year, for the first time, the overall winner didn't come from Scotland or Japan..but from Taiwan's King Car Distillery, which took the top two spots with Kavalan Solist sherry cask bottlings. Only four gold medals were awarded in the competition, and we'll discuss the results with Maniacs Peter Silver and Robert Karlson…two of the 10 judges on this year's judging panel.
In the news, Diageo wins a trademark lawsuit in Houston against the maker of "Crown Club" whiskies, while giving Texans the first ever single-barrel bottling of Crown Royal. We'll also have more on new whiskies from around the world, and this week's tasting notes include an Aultmore single malt from Douglas Laing & Co. that raised eyebrows when it was released in Israel.
Links:
Malt Maniacs
|
Crown Royal
|
Ranger Creek
|
Deanston
|
Journeyman Distillery
|
Heaven Hill
|
The Glenrothes
|
Woodford Reserve
|
Douglas Laing & Co.
|
Michael Bendavid's Malt & Oak Blog
---
Amrut got whisky lovers used to the idea of single malt whiskies from India, and now, Paul John is challenging Amrut's standing as the leader in Indian single malts. John Distilleries has been making single malt whisky in Goa for the last 10 years, but only started exporting it to the UK and Europe in 2012. The Paul John whiskies have now arrived in Australia, and are expected to enter the US market in 2015. Krish Kumar of Paul John explains the distillery's story on this week's WhiskyCast In-Depth.
In the news, Maker's Mark is now facing a court challenge over its claims of being "handmade", another Bourbon attraction is coming to downtown Louisville, and the airport security guards are going to love a new shoe design coming from London…one with compartments for whisky bottles in the heels!
Links:
Paul John
|
Maker's Mark
|
Jim Beam
|
Buffalo Trace
|
Heaven Hill
|
Balcones Distilling
|
Zuidam Distillers
|
WKBW-TV
|  
Bonhams
|
McTear's
|
Johnnie Walker
|
Big Peat
|
High West 
---