WhiskyCast is where it all begins. Now in our 9th year, each weekly episode brings you the latest in whisky news, along with the latest events, tasting notes, comments from other listeners, and the weekly "In-Depth" segment features interviews with the people who help make whisky the "water of life".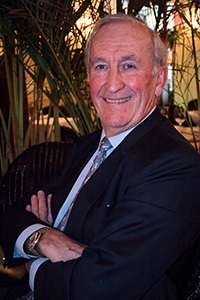 James Espey has created some of whisky's legendary brands during his career, along with the Keepers of the Quaich, and was named an Officer of the British Empire by Queen Elizabeth II last year for his services to the whisky industry. Now, he's busy with a brand of his own…and his own brand. The Last Drop is a boutique whisky brand he and his longtime friends created, and his story of personal brand-building is the subject of his new book "Making Your Marque." He'll share his story on this week's WhiskyCast In-Depth, and you'll have a chance to win a signed copy, too.
Links:
The Last Drop
|
Beam
|
Suntory
|
Tennessee General Assembly
 | 
Brown-Forman
 | 
Jack Daniel's
 | 
Diageo
 |
George Dickel
 |
Chattanooga Whiskey
|
Cotswold Distilling Company
|
eFinancialCareers
 |
Johnnie Walker
|
Explorers Club
|
Ardbeg
|
anCnoc
|
A. Smith Bowman
|
J&B
|
Whisky Magazine
---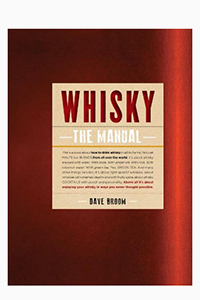 Dave Broom has written and edited many books on whisky and other spirits, but none quite like his latest book. "Whisky: The Manual" is for whisky drinkers who just want to enjoy a dram without having to know everything about it. He'll explain the logic behind his new book on this week's WhiskyCast In-Depth. In the news, Australia's Sullivan's Cove French Oak scores an upset win in the World Whiskies Awards as the "World's Best Single Malt", and we'll hear from distillery manager Patrick Maguire. There's more to talk about in the noisy debate over what the definition of a "Tennessee Whiskey" should be, and word of a compromise proposal that's being floated at the state Capitol in Nashville. This week's tasting notes include two of the World Whiskies Awards winners, along with a special version of Jameson for St. Patrick's Day…and the other 364 days of the year.
Links:
Whisky: The Manual (Amazon)
|
World Whiskies Awards
|
Sullivan's Cove
|
Whisky Magazine
|
Ultimate Spirits Challenge
 |
Tennessee General Assembly
 | 
Brown-Forman
 | 
Jack Daniel's
 | 
Diageo
 | 
George Dickel
 |
Popcorn Sutton
|
Scotch Whisky Association
|
Glen Grant
|
Glenglassaugh
|
Single Cask Nation
|
Catoctin Creek
|
Bladnoch
|
Balcones
 |
Jameson
---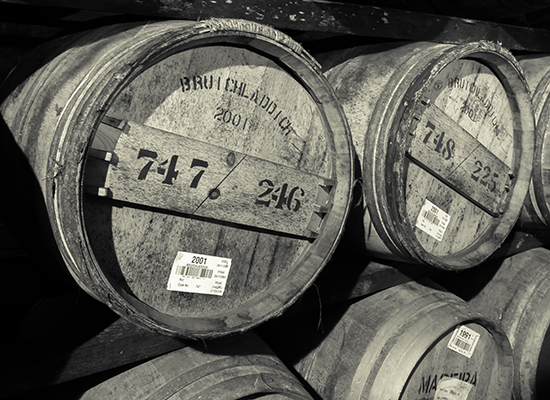 Bruichladdich expressions come and go…sort of like the waves on Loch Indaal do. Laddie fans are lamenting a decision to pull the Laddie Ten, Sixteen, and Twenty-Two single malts out of retail, but Bruichladdich's leaders say short supplies and global demand gave them no choice. We'll chat with CEO Simon Coughlin, Production Director Jim McEwan, and Commercial Director Douglas Taylor on this week's WhiskyCast In-Depth. In the news, Campari moves into Canadian whisky with its acquisition of Forty Creek, Brown-Forman and Diageo square off in Nashville over standards for Tennessee Whiskey, and might Dad's Hat Pennsylvania Rye want to re-brand itself "Dad's Beret" for its debut in France?
Links:
Bruichladdich
|
Forty Creek
|
Brown-Forman
|
Jack Daniel's
|
Diageo
|
George Dickel
|
Wild Turkey
|
Dad's Hat
|
Tullamore D.E.W.
|
Kilchoman
|
Cutty Sark
---
Graham Eunson has seen a lot during his career in the Scotch whisky industry. He shed a tear or two when he was assigned to close Scapa and Glendronach distilleries, burned with pride when Glenglassaugh's stills were fired up for the first time in more than two decades, and now manages Tomatin Distillery southwest of Inverness. In Tomatin, the distillery manager isn't just the boss, but the mayor…since the village was built around the distillery and its workers live in company-owned homes. We'll talk with Graham about life in Tomatin and taking over for the previous manager/mayor, 53-year Tomatin legend Douglas Campbell, on this week's WhiskyCast In-Depth.
This week's episode was recorded on location at the Philadelphia Flower Show, where Jim Rutledge of Four Roses was signing bottles of a limited single barrel release for Pennsylvania's state-owned liquor stores. Jim shares the story behind that release, which he thinks is one of his best, along with details on the soon-to-be-released 2014 Four Roses Limited Edition Single Barrel. We'll also get details on Scotland's newest distillery, which is now being built on the Isle of Harris with a goal of not just creating good whisky, but good jobs.
Links:
Tomatin
|
Brown-Forman
|
Loch Lomond
 | 
Exponent Private Equity 
 | 
Portvadie Distillery
 |
Isle of Harris Distillery
|
Wyoming Whiskey
|
Tormore
|
Classic Malts
|
Woodford Reserve
|
Four Roses
 |
PA Liquor Control Board
|
Town Branch
|
Philadelphia Flower Show
---
Maker's Mark celebrates its 60th anniversary this year, and the distillery is about to undergo a $70 million dollar expansion that will increase capacity by 50% to meet future demands, along with changes to make it easier for distillery workers and thousands of visitors to get around the complex. Maker's Mark President Rob Samuels explains the project and plans for marking the anniversary on this week's WhiskyCast In-Depth. In the news, there are more distillery projects planned in Scotland, details on the third Orphan Barrel Bourbon, and a new Scotch whisky from The Last Drop. We'll also answer a listener question about the history of Speyside distilleries, and this week's tasting notes include the new 25th Anniversary edition of Booker's Bourbon.
Links:
Maker's Mark
|
Speyburn
|
George Dickel
|
Classic Malts
|
Arran
|
Last Drop Distillers
|
Domain Name Journal
|
Whisky.com
|
D&M Liquors Lombard Springbank
---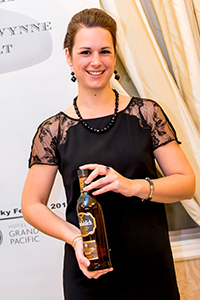 Alwynne Gwilt couldn't stand whisky…hated it, in fact. That is, until a former boss in London dragged the Canadian expat to a media tasting. It's not quite the same transformation Peter Parker had following his encounter with a radioactive spider, but that evening turned Alwynne into "Miss Whisky". Now, she's on her own blogging, freelance writing, and leading whisky tastings…and joins us for this week's WhiskyCast In-Depth. In the news, Diageo plans to open Stitzel-Weller Distillery in Louisville to the public, but there are still no official plans to restart production…yet. Beam loses a preliminary battle in its legal fight over Irish whiskey supplies, Teeling Whiskey gets more distribution in Latin America, and The Glenrothes uncovers a single cask from 1969.
Links:
Miss Whisky
|
Diageo
|
Bulleit
|
Mackmyra
|  
Beam
|
Suntory
|
Sidney Frank
|
Teeling Whiskey
|
GlenDronach
|
The Glenrothes
|
Westland Distillery
|
Creative Whisky Company
|
Old Pulteney
---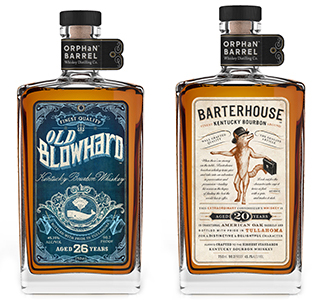 There have been many more questions than answers about Diageo's new Orphan Barrel range of whiskies…until now. Diageo's Ewan Morgan answers our questions about the origins of Old Blowhard and Barterhouse Bourbons, hints at the next release in series, and explains what distilleries often mean when they talk about "discovering" old casks of whisky in a warehouse. In the news, Whyte & Mackay is officially up for sale now, a Houston bar may be the only one in the world with a bottle of Glenmorangie 1963, and they're preparing for DramFest 2014 in Christchurch, New Zealand – three years after a massive earthquake devastated the city.
Links:
Diageo
|
Whyte & Mackay
|
United Spirits
|
Pernod Ricard
|
The Spirits Business
|
Reserve 101
|
Glenmorangie
|
Booker's
|
William Grant & Sons
|
DramFest
|
2 Gingers
|
Wyoming Whiskey
|
Buffalo Trace
|
Aberlour
|
The Balvenie
|
Johnnie Walker
---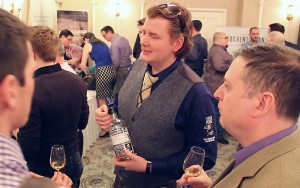 Whisky's brand ambassadors roam the world, racking up tens or hundreds of thousands of frequent flier miles every year and spending up to half their nights away from home, while pouring more drams than some full-time bartenders. We'll hear some of their tales from the road — good and bad — during this week's WhiskyCast In-Depth. In the news, US whiskey exports hit a new high during 2013, while Irish whiskey exports could double by 2020. We'll hear from supporters and critics of the UK's new Scotch Whisky certification program, and this week's tasting notes include four vintage Bourbons.
Links:
Distilled Spirits Council of the United States
|
Irish Spirits Association
 |
Scotch Whisky Association
|
Gordon & MacPhail
|
Creative Whisky Company
|
Diageo
|
United Spirits
|
Office of Fair Trading Report
|
Whyte & Mackay
|
Adelphi
|
Terlato Wines
|
Jameson
|
Single Oak Project
|
Tasmania Distillery
 |
Springbank
|
Canadian Club
|
Kilbeggan
|
Laphroaig
|
Kilchoman
|
Evan Williams
|
McLain & Kyne
---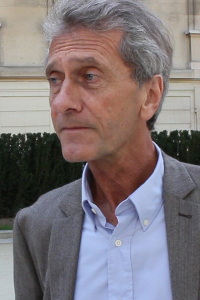 Kilchoman became Islay's newest distillery in 2005, about the same time Jean Donnay started making whisky at Glann ar Mor on France's Brittany Coast. Fast forward 10 years to 2015, when Donnay is scheduled to open his new distillery on Islay's Gartbreck Farm and claim the title of Islay's youngest distillery. Gartbreck received planning permission this week, and construction is expected to begin this May. Jean Donnay joins us on WhiskyCast In-Depth to discuss his longtime dream of distilling on Islay and his plans for Gartbreck Farm. In the news, the TSA relaxes its rules on carrying duty-free whiskies on board flights for international passengers, Dublin officials give Teeling Whiskey the green light to start construction on its new distillery, and the Kentucky Bourbon Affair's "golden tickets" sold out in little more than a week.
Links:
Glann ar Mor
|
Transportation Security Administration
|
Sahara Force India F1
|
Whyte & Mackay
|
Teeling Whiskey
|
Redbreast
|
Highland Park
|
anCnoc
|
Spencerfield Spirit Company
|
Spirit of Speyside Festival
|
Kentucky Bourbon Affair
|
Global Times
|
Laphroaig
---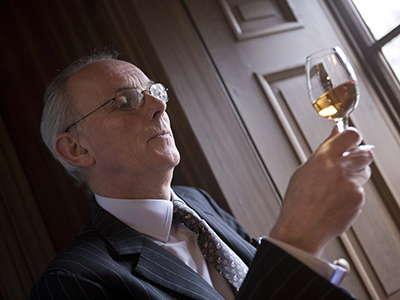 Colin Scott is celebrating two anniversaries — his 40th anniversary in the whisky business and 25th anniversary as the Master Blender for Chivas Regal and Royal Salute whiskies. His latest release is a tribute to Royal Salute's ties to the world of professional polo, and Colin took his inspiration for the blend from working with his family's polo ponies. He'll discuss his blends and working with whiskies that were just being distilled when he started his career on this week's WhiskyCast In-Depth. In the news, Suntory denies reports that it's bidding for Whyte & Mackay and the Kentucky Bourbon Trail sets a new visitor record. We'll also have reaction to a moment in this week's WhiskyCast HD interview that caught Richard Paterson off guard, along with tasting notes for the Dalmore expression he created with Chef Daniel Boulud.
Links:
Royal Salute
|
Chivas Regal
|
Whyte & Mackay
|
Diageo
|
Suntory
|
The Scotsman
|
Kentucky Bourbon Affair
|
Kentucky Bourbon Trail
|
The Macallan
|
Sotheby's
|
GlenDronach
|
Sortilege
|
Man Caves
|
Jim Beam
 |
The Dalmore
| 
Highland Park
---