WhiskyCast is where it all begins. Now in our 9th year, each weekly episode brings you the latest in whisky news, along with the latest events, tasting notes, comments from other listeners, and the weekly "In-Depth" segment features interviews with the people who help make whisky the "water of life".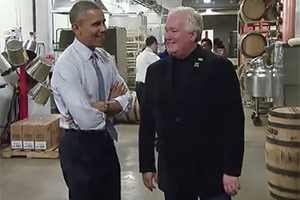 US President Barack Obama visited a whisky maker for the first time this week during his trip to Cleveland for a speech to the City Club of Cleveland. He visited the small business incubator that's home to Tom Lix's Cleveland Whiskey, along with nearly two dozen other small manufacturers. Lix's proprietary — and controversial — process takes young whiskey and gives it what Lix claims is the color, aroma, and taste of older Bourbons. He'll tell us about the President's visit and discuss his process on this week's WhiskyCast In-Depth. In the news, the investigation into the theft of whiskey from a Wild Turkey warehouse in Kentucky continues, Jim Beam fights back in the courts, another "world" whisky is named the World's Best Single Malt, and a Japanese CEO has banned his executives from drinking some of his company's own whiskies to make more available for consumers.
Links:
Cleveland Whiskey
|
Wild Turkey
|
Jim Beam
|
Kazerouni Law Group
|
Popcorn Sutton
|
Johnnie Walker
|
Buffalo Trace
|
Wemyss Malts
|
Tamdhu
|
Scotch Whisky Association
|
Whisky Magazine
|
Suntory
|
Park Avenue Liquor Shop
---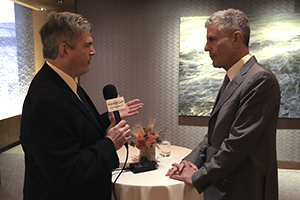 Anthony Bourdain is many things…a chef, author, journalist, and media personality. At heart, though, he's a hedonist seeking pleasure from everything he encounters – including whisky. The host of CNN's "Anthony Bourdain: Parts Unknown" was the lead juror for this year's American Craft Council Rare Craft Fellowship Awards presented by The Balvenie, and we spent a few minutes discussing whisky at Tuesday's awards luncheon in New York City. He'll share his thoughts on the global interest in whisky, along with his take on what defines a "craft" whisky and more on this week's WhiskyCast In-Depth.
In the news, a Buffalo Trace employee has been arrested has been made in the theft of five barrels of Bourbon from Wild Turkey, and investigators are looking for any links to the infamous 2013 "Pappygate" theft. Scotch Whisky industry leaders are hoping for a tax cut in this coming week's UK budget announcement, and a Bourbon brand not sold in the US for two decades is coming back. We'll also have plenty of feedback on last week's interview with class-action attorney Abbas Kazerounian on his consumer fraud lawsuits against Jim Beam and Maker's Mark over their claims of being "hand-made."
Links:
The Balvenie
|
American Craft Council
|
Wild Turkey
|
Johnnie Walker
|
Scotch Whisky Association
|
Bushmills
|
Diageo
|
William Grant & Sons
|
Tullamore Dew
|
Jameson
|
Armorik
|
Arran
|
Kazerouni Law Group
|
Wood's High Mountain Distillery
|
Talisker
|
Single Pot Stills of Midleton
---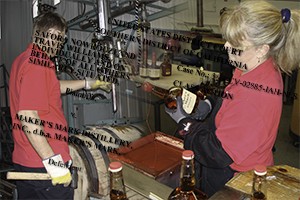 Lawyers are circling around the whisky industry, much like sharks around a shipwreck. At least five different US distillers and bottlers have been hit with class-action lawsuits since last September accusing them of misleading consumers. The litigation largely focuses on whether their whiskies are "hand-made," "small-batch," or claim to come from a small-scale distillery that actually purchases bulk whiskey from larger distillers.
This week on WhiskyCast In-Depth, we'll hear from one of the attorneys targeting the whisky industry. Abbas Kazerounian's California law firm specializes in class-action consumer cases, and is currently suing Maker's Mark, Jim Beam, and Tito's Vodka over claims that their products are hand-made. His goal is to get drinks producers to be more honest with consumers, and plans to expand that fight to Scotch Whisky and other spirits as well. Beam Suntory declined to make anyone available to discuss the lawsuits, but company spokesmen have said the lawsuits are without merit.
In the news, George Dickel master distiller John Lunn is leaving Diageo for a new opportunity, Brown-Forman plans to turn up the heat on Fireball with its Jack Daniel's Tennessee Fire, and two sides are squabbling over the trademark rights to a historic distillery name. This week's tasting notes feature The Glenlivet Founder's Reserve and the Evan Williams Single Barrel 2005 Vintage Bourbon.
Links:
Kazerouni Law Group
|
Maker's Mark
|
Jim Beam
|
George Dickel
|
Diageo
|
Fred Minnick
 | 
Chatham Imports
|
Bomberger's Distillery
|
Michter's
|
Jack Daniel's
|
Brown-Forman
 |
Distilled Spirits Council of the United States
|
Arran
|
Tomatin
|
Wyoming Whiskey
|
Huber's Starlight Distillery
 |
Yamazaki
|
The Glenlivet
|
Evan Williams
---
---
---
It's Valentine's Day, and who better to explain his passion for making whisky than Rifino Valentine of Valentine Distilling. His Woodward Ltd. Bourbon is named after Detroit's legendary Woodward Avenue, which runs just a couple of blocks away from his distillery in the suburb of Ferndale, Michigan. Valentine is preparing to move from his original site to a brand-new facility in Ferndale, and is part of a craft distilling boom in the Detroit area. We'll talk with Rifino Valentine and his head distiller, Justin Aden, on this week's WhiskyCast In-Depth. There are plenty of new whiskies to talk about this week, and we'll also have more tasting notes from the #28DramsIn28Days project.
Links:
Valentine Distilling
|
Jim Beam
|
Old Grand-Dad
|
Booker's
|
Diageo
|
Heaven Hill
|
Johnnie Walker
|
Wemyss Malts
|
Kentucky Bourbon Affair
|
The Glenlivet
|
Scotch Whisky Association
|
Westland Distillery
---
---
Graeme Macaloney gave up a secure career in the pharmaceutical industry to pursue his dream of making whisky, and the Scottish expat is getting closer to realizing his dream. He's hoping to begin construction on the Victoria Caledonian Distillery in Victoria, British Columbia soon, and has already brought Dr. Jim Swan and former Diageo distillery manager Mike Nicolson as consultants. Graeme explains why he and his family mortgaged their future (and their house) on his dream on this week's WhiskyCast In-Depth.
In the news, Wild Turkey's Eddie Russell joins us to discuss his promotion to Master Distiller alongside his father, the legendary Jimmy Russell. We'll also look at whisky economics in Scotland, where a new report estimates the industry's economic impact at £5 billion annually. There's word on new whiskies from anCnoc and GlenDronach, and this week's tasting notes include whiskies from Kentucky, Texas, Scotland, and France!
Links:
Victoria Caledonian Distillery
|
Wild Turkey
|
Kentucky Bourbon Trail
|
Scotch Whisky Association
|
Icons of Whisky Awards
|
Diageo
|
anCnoc
|
GlenDronach
|
The Green Welly Stop
|
Spirit of Speyside Festival
|
Ranger Creek
|
G. Rozelieures
---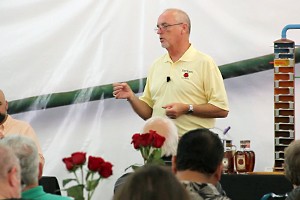 Kentucky's Four Roses Distillery announced this week that supply problems will prevent this spring's release of the annual Four Roses Limited Edition Single Barrel Bourbon. In his first interview on the subject, master distiller Jim Rutledge explains why dropping the limited-edition release will make more single barrel bottlings available to consumers, along with the prospects for bringing back the annual release in the future. In the news, Scotch Whisky producers are preparing for a fight with Westminster over taxes, we have more details on last weekend's Sunday Herald report about water usage violations at some Scottish distilleries, US regulators are cracking down on vague age statements, and there are new whiskies to talk about from Woodford Reserve and Glenmorangie. Finally, tasters at an event planned for Valentine's Day in London may really detect a note of sweat in their whiskies…
Links:
Four Roses
|
Scotch Whisky Association
|
Sunday Herald
|
Tax & Trade Bureau
|
Woodford Reserve
|
Glenmorangie
|
London Distillery Company
 |
Bompas & Parr
|
Kilbeggan
|
Classic Malts
|
The Macallan
---
In the second of our two episodes from this weekend's Victoria Whisky Festival, we'll catch up on more of the week's news – including more details on the $50,000 bottle of The Balvenie 50 stolen in a Montreal robbery Thursday and a Scottish newspaper report that several distilleries are in hot water with environmental protection officials over using too much water. We'll get the latest on new whiskies from Springbank, the revival of a historic blended Scotch brand, and Corby's Dr. Don Livermore clears up more misconceptions about Canadian Whisky.
Links:
Victoria Whisky Festival
|
Wiser's
|
The Balvenie
|
Sunday Herald
|
Whyte & Mackay
|
Gordon & MacPhail
|
Tullibardine
|
Highland Queen
|
Victoria Spirits
|
Springbank
---