WhiskyCast is where it all begins. Now in our 9th year, each weekly episode brings you the latest in whisky news, along with the latest events, tasting notes, comments from other listeners, and the weekly "In-Depth" segment features interviews with the people who help make whisky the "water of life".
Templeton Rye has been in the spotlight in recent weeks as critics go after so-called "sourced whisky" producers for what they claim are violations of a US regulation that requires the disclosure of the "state of distillation" of a whisky if it's different from the producer's home state. The Iowa-based company announced two weeks ago that it will change its labeling to disclose that its whisky is distilled in Indiana, while noting that it's been up front about that fact for years everywhere but on the label. Templeton's Scott Bush and Keith Kerkhoff will tell us their side of the story on this week's WhiskyCast In-Depth.
In the news, Scotch Whisky producers are nervous about the upcoming independence referendum, Kentucky's Bourbon Hall of Fame will induct one of the industry's pioneering women, and there are plenty of new whiskies to talk about. This week's tasting notes include the Four Roses 2014 Limited Edition Small Batch, Maker's Mark Cask Strength, and the Parker's Heritage Collection 2014 "Original Batch" Wheat Whiskey.
Links:
Templeton Rye
|
CNN
|
The Telegraph
|
English Whisky Company
|
Maker's Mark
|
Kentucky Distillers Association
|
Heaven Hill
|
Parker Beam's Promise of Hope Fund
|
The Balvenie
|
The Glenlivet
|
Compass Box
|
Douglas Laing & Co.
|
Glenturret
|
Four Roses 
---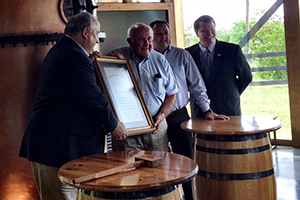 When you've worked at the same place for 60 years, it's hard for your colleagues to keep a secret from you. Wild Turkey and the Kentucky Distillers Association managed to keep a secret from Jimmy Russell for months, though. This Wednesday will be his 60th anniversary at the distillery, and last week, the KDA held a luncheon at Wild Turkey to honor Jimmy with only the sixth lifetime honorary membership ever presented by the association in its 130-year history. We'll hear from the "Buddha of Bourbon" on just how surprised he was, along with the KDA's Eric Gregory…and Jimmy even gives us advance details on a new release of Wild Turkey Forgiven, too.
In the news, there are plenty of new Bourbons on the way, along with several new single malts from Scotland, and we'll also get some of the reaction to last week's interview on whisky labeling issues with Steve Gertman of California's Ascendant Spirits.
Links:
Wild Turkey
|
Kentucky Distillers Association
|
Old Forester
|
Four Roses
|
Buffalo Trace
|
Jim Beam
|
anCnoc
|
Tomatin
|
Cù Bòcan
 |
Balcones Distilling
|
Ascendant Spirits
---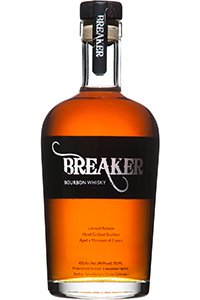 Steve Gertman of California's Ascendant Spirits produces Breaker Bourbon, and his brand is one of those targeted by a Chicago-based law firm that specializes in class-action lawsuits, and is "investigating" claims by small-batch whisky brands about the source of their whiskies. Like many small producers, Gertman has been sourcing whiskey from other distillers while the Bourbon he's making is aging, and he responds to the claims on this week's WhiskyCast In-Depth along with criticism he's received since appearing on WhiskyCast last January. In the news, Templeton Rye is also a target of the law firm's probe, and has announced that it will change its label to reflect that the whiskey is distilled in Indiana and not Iowa. We'll also have reaction from other targets of the probe as well, along with the reaction of Charbay's Marko Karakasevic to last weekend's Napa Valley earthquake and much more!
Links:
Ascendant Spirits
|
Templeton Rye
|
Consumer Class Actions.com
|
Edelson
|
High West
|
Redemption
|
Angel's Envy
|
WhistlePig
|
KGB Spirits
|
Maker's Mark
|
Bulleit
|
Tullamore Dew
|
Charbay
|
Heaven Hill
|
Ardbeg
|
Mackie's of Scotland
|
Willett 
---
This week, we'll wrap up our conversation with Bourbon Hall of Fame member Chuck Cowdery, author of the new book "Bourbon: Strange" and get his views on more of the controversies facing the whisky industry. Diageo broke ground this week for the new Bulleit Bourbon distillery in Kentucky, and Chuck has some harsh words for the way Diageo and its predecessors have handled American whiskey in the past. He's also upset with what he and other critics see as lax oversight by federal regulators on whisky labeling, and doesn't hesitate to name names in Part 2 of our WhiskyCast In-Depth interview. In the news, we'll hear more from Tom Bulleit on the groundbreaking for the new Bulleit distillery and Cara Laing updates us on upcoming new whiskies from Douglas Laing & Co.
Finally, we'll talk about the ALS Ice Bucket Challenge and the new Whiskey Ice Challenge in honor of Heaven Hill's Parker Beam, and Parker's wife Linda passed along a message to everyone supporting the fight against ALS.
Links:
The Chuck Cowdery Blog
|
Brown-Forman
|
Jack Daniel's
|
Bulleit Bourbon
|
Diageo
|
Jim Beam's Birthday Celebration
|
Douglas Laing & Co.
|
Parker Beam's Promise of Hope Fund
|
Heaven Hill
---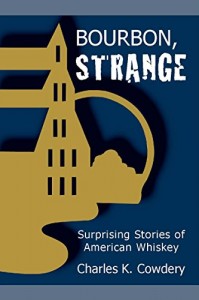 Chuck Cowdery is regarded as one of the top Bourbon writers around, and is one of the few writers to be inducted into the Kentucky Bourbon Hall of Fame for his work. His latest book is "Bourbon: Strange", and Chuck debunks some of the mythology surrounding Bourbon while sharing some stories as well. He'll join us this week on WhiskyCast In-Depth for part one of a two-part interview, with the rest on next week's episode.
In the news, Russia is now going after Jack Daniel's as the trade war with the West gets uglier, and we'll have the latest on new whiskies and new distilleries. Also, The Balvenie is kicking off its 2014 Rare Craft Collection tour this weekend on California's Monterey Peninsula, and three-time Indianapolis 500 winner Dario Franchitti will tell us how he selected the items for this year's collection. He'll also tell us about his private tasting session with The Balvenie's David Stewart, and why you won't see him driving the brand's vintage Morgan sports car any time soon.
Links:
The Chuck Cowdery Blog
|
Jack Daniel's
|
The Moscow Times
|
Old Pulteney
|
Royal Mile Whiskies
|
Bowmore
|
BenRiach
|
Willett
|
Teeling Whiskey Company
|
Nelson's Green Brier Distillery
|
Headframe Spirits
|
Diageo
|
Benromach
|
Bonhams
|
The Balvenie Rare Craft Collection 
---
---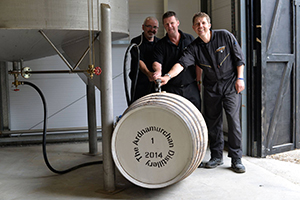 Scotland's newest distillery has opened on the Ardnamurchan Peninsula along the western coast, and the first casks of spirit were filled on Thursday at Adelphi's Ardnamurchan Distillery. Veteran whisky maker Graeme Bowie left Balblair Distillery last year to oversee construction of the distillery and serve as its first manager, and he'll join us on this week's WhiskyCast In-Depth. In the news, Diageo reported a sharp downturn in sales during the last fiscal year, and the drinks giant's shares are on a Barclays watch list for possible effects from next month's Scottish independence referendum. We'll have the details on a New York craft distiller that's now maturing its whiskies in casks made from locally grown trees, new whiskies from Arran and Elijah Craig, and a truce in the Bourbon Feud between the mayors of Louisville and Bardstown.
Links:
Ardnamurchan
|
Diageo
| 
Coppersea Distillery
|
Elijah Craig
 |
Arran
|
The Daily Beast
|
OC Weekly
 |
Bluestill Distillery
|
Kentucky Distillers Association
|
Distilled Spirits Council of the US
 |
Scotch Whisky Association
|
Elements of Islay
 |
Bowmore
---
Tasmania's distillers have been making some unusual and incredible whiskies in recent years, but many of them are flying under the radar of whisky lovers. Belgrove Distillery is one of those underrated distilleries, but when WhiskyCast listener Matt Wooler told us we had to check it out, we did. Peter Bignell built the distillery from the ground up on his farm, where he grows his own grain, makes his own whisky, and even fills and labels each bottle by hand. He's also making what may well be one of the few peated rye whiskies in the world, and shares his story with us on this week's WhiskyCast In-Depth.
In the news, Kentucky's stocks of maturing Bourbon have reached the five million barrel mark for the first time since 1977, we'll get the latest on commemorative bottlings from Maker's Mark and The Famous Grouse, and Woodford Reserve mourns the death of a longtime family member…Elijah, the distillery cat.
Links:
Belgrove Distillery
|
University of Tasmania
|
Bonhams
|
McTear's
|
Kentucky Distillers Association
|
Maker's Mark
|
The Famous Grouse
|
Glasgow 2014
|
William Grant & Sons
|
Glenglassaugh
|
Laphroaig
|
Wemyss Malts
|
Woodford Reserve
|
King of Scots
---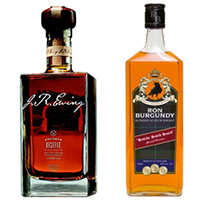 Celebrity-branded spirits are a big trend these days, and the whisky world is no exception. Last week, we reported on the lawsuit filed by John Wayne's heirs against Duke University seeking to protect the family's trademark rights to produce a "Duke Bourbon" featuring the late actor. It's a little easier when the brand is based on a character instead of the actor, though…and this week, we'll hear from two entrepreneurs who have done just that. Michael Howard of Prairie Creek Beverages in Dallas is behind the J.R. Ewing Bourbon named after the legendary "Dallas" villain, and Ed Caan of Riviera Imports worked with Paramount Pictures on Ron Burgundy Great Odin's Raven Scotch as part of last winter's "Anchorman 2″ premiere. He'll tell us what Paramount executives originally wanted to call the whisky, too.
We'll also have the latest on the pending sale of Whyte & Mackay, along with word that distillers just down the road from J.R.'s Southfork Ranch have won a zoning battle for their new distillery site. David Beckham, Simon Fuller, and Diageo have launched their Haig Club single grain Scotch in London, and The Famous Grouse releases a special bottling for the Glasgow Commonwealth Games. Finally, we'll look at ideas for summer whisky cocktails with bartender Jeff Bell of PDT in New York City.
Links:
J.R. Ewing Private Reserve
|
Ron Burgundy Scotch Whisky
|
Competition & Markets Authority
|
Diageo
|
United Spirits
|
Whyte & Mackay
|
Fort Worth Star-Telegram
|
Firestone & Robertson
|
Irish Distillers
|
The Famous Grouse
|
Glasgow 2014
|
GlenDronach
|
Jim Beam
|
Ardnamurchan
|
PDT
|
Johnnie Walker
---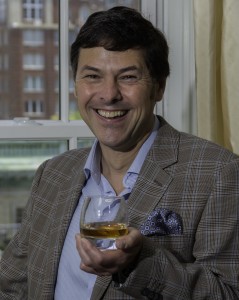 Glenmorangie's Dr. Bill Lumsden wanted to push the envelope 16 years ago when he got his hands on some French Oak barriques from an undisclosed Bordeaux wine chateau, and see just how long he could put a whisky away for finishing. He got his answer a couple of years ago when five of those barriques yielded the Glenmorangie Pride 1978 single malt that was released this week. We'll discuss that process with him on this week's WhiskyCast In-Depth, and he'll respond to Ardbeg lovers who claim the Islay landmark's current releases don't quite match up to those old classic Ardbegs, but still want him to revive the Ardbeg 17-year-old. In the news, Scotland's whisky industry gets dragged into the independence referendum debate, while two distillers pick their sides in the showdown. Speaking of showdowns, John Wayne's family is squaring off in court against Duke University over a Bourbon honoring the legendary movie star.
Links:
Glenmorangie
|
Ardbeg
|
Scotland Electoral Commission
 |
William Grant & Sons
|
Scotch Whisky Association
|
Springbank
|
Old Pulteney
|
The Glenrothes
|
Jack Daniel's
|
The James Beard House
|
The Flatiron Room
|
Duke Spirits
|
Duke University
 |
Downslope Distilling
---