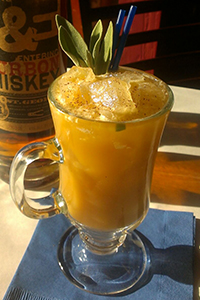 October 17, 2013 – Alexa "Pixie" Bowler of Cowboy Ciao in Scottsdale, Arizona created this Southwestern-themed Bourbon cocktail:
1.5 ounces "Breaking and Entering" Bourbon by St. George
1.5 ounces Butternut Squash Agua Fresca*
0.5 ounce rich coconut sugar syrup
0.5 ounce Frangelico
4 fresh sage leaves
Muddle sage and coconut syrup in a mixing glass. Add all other ingredients and shake for 30 seconds. Double strain into a glass coffee mug filled with ice. Garnish with fresh grated nutmeg and sage leaves.
*Butternut Squash Agua Fresca:
In a mixing bowl, combine the juice of one small butternut squash (approximately 2 1/2 cups), 1 cup of raw maple syrup, and 1 cup of coconut milk. Stir until combined.