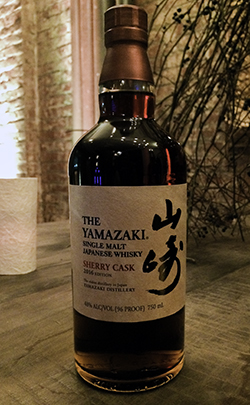 February 3, 2016 – One of the most-talked about whiskies of 2016 so far made its debut in New York City tonight, as Suntory unveiled the Yamazaki Sherry Cask 2016 Edition at a dinner for whisky and drinks media. The Yamazaki Sherry Cask 2016 Edition is the successor to the 2013 Edition, which was the winner of numerous awards in worldwide competitions and was named "World Whisky of the Year" in the 2015 Edition of Jim Murray's Whisky Bible.
The 2016 Edition includes some of the whisky blended for the previous edition that was not bottled, but was re-casked and allowed to mature for two more years before being blended with other Yamazaki sherry casks by Suntory chief blender Shinji Fukuyo, who also created the 2013 Edition. "He's got a difficult task," Suntory global brand ambassador and former Yamazaki Distillery manager Mike Miyamoto said during an interview. "Unless this is received well, his blending ability has to be judged…so very difficult for him, but…the whisky itself is fabulous and beautiful.
Only 5,000 bottles of the 2016 Edition were produced, with the 750ml bottles required under US law just now arriving in the market. 700ml bottles have already arrived in Europe, with prominent Edinburgh retailer Royal Mile Whiskies noting that its allotment barely reached the shelves before selling out.

The Sherry Cask 2016 Edition is part of Yamazaki's Cask Collection, with other expressions matured in Japanese Mizunara Oak, Bourbon casks, and Puncheons. The recommended retail price is $300 per 750ml bottle in the US.
Tasting notes for the Yamazaki Sherry Cask 2016 Edition
Links: Suntory Whisky