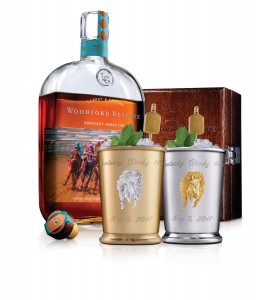 April 14, 2014 – With the 140th running of the Kentucky Derby less than three weeks away, Woodford Reserve has started taking bids for its annual $1,000 Mint Julep cocktails to be served at Churchill Downs on Derby Day. Proceeds from the 9th annual event will benefit the Old Friends Thoroughbred Retirement Center, which provides a safe home and medical care for retired race horses. The cups will be on sale online through May 1, but must be picked up at Churchill Downs on May 3.
This is the 89th year that the Derby has been known as the "Run for the Roses", in honor of the rose garland traditionally placed around the winning horse's neck. A total of 89 Mint Juleps will be available, with 79 to be served in a sterling silver "Kentucky Rose Cup" priced at $1,000 each. Ten gold-plated "Royal Rose Cups" will be available for $2,000 each. Both versions will contain the same cocktail, to be made this year with rose-themed ingredients including rose-infused ice, candied rose petals, and Woodford Reserve Distiller's Select Bourbon. Each cup will come in a box made from the same American White Oak used for Woodford Reserve's barrels, with a fabric liner specially designed by Vineyard Vines. The apparel company has also produced a special series of accessories to be sold only at the Woodford Reserve Distillery's visitors center, with all proceeds to go to Old Friends as well.
Last week, Woodford Reserve held a grand opening for the newly-expanded visitors center at the distillery in Versailles, Kentucky. The $1.9 million dollar expansion project includes a new tasting room, expanded dining space, and facility upgrades. Brown-Forman is also investing an additional $35 million to expand production capacity at the distillery, which dates back more than 150 years and is listed on the National Register of Historic Places.