April 14, 2014 – Woodford Reserve's first national television campaign made its debut during the season premiere of "Mad Men" on AMC Sunday night, and the episode was barely over before critics started slamming the first commercial as "sexist." The ad features a woman talking about the kind of man she imagines drinking Bourbon, and is the first of six commercials in the series created by Minneapolis-based advertising agency Fallon Worldwide.
Most of the criticism came via Twitter, with CNN.com's Kat Kinsman providing some of the most vocal commentary: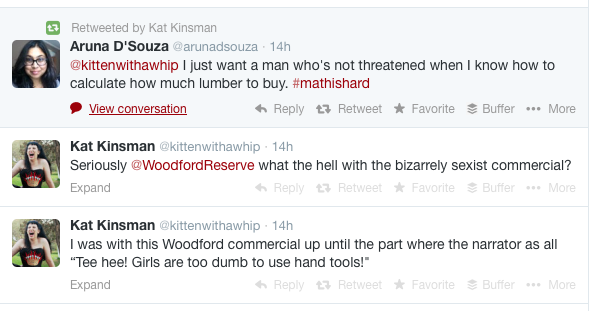 Women were not the only ones who appear to be upset with the ad's content:


Woodford Reserve spokeswoman Andrea Duvall described the campaign's overall goal as one of celebrating the complexity and diversity of Bourbon drinkers. In a telephone interview, she told WhiskyCast's Mark Gillespie that sexism never entered the discussion.
"We recognize that people are talking about it (the "Bookshelf" ad), and it was not our intent to offend. This is about celebrating the Bourbon drinker from a number of different contexts."
The debate over gender roles and presentation in whisky advertising reached a new level in December, when a social media-led campaign forced Dewar's to withdraw an online video because of its portrayal of women. The ad was later deemed to violate the Distilled Spirits Council's Code of Responsible Practices by the trade body's Code Review Board. However, the Canadian whisky blogger who helped lead that campaign doesn't see any issues with the Woodford Reserve commercial. In an email, Johanne McInnis said she doesn't view the Woodford commercial as sexist at all, with a woman narrator and no "half-naked" women in "hooker makeup and heels."
"When she sees a guy drinking bourbon she sees someone who is smart, good with his hands & respects that she's not "cute" because she doesn't know how to use it. May not be the most brilliant marketing ad, but this is a great step in a gender neutral position."
A second ad in the series tells a story from the man's point of view, and four additional ads will be rolled out on broadcast and cable networks over the next several weeks. Duvall says at least one of the ads will run during NBC's coverage of the Kentucky Derby on May 3. Woodford Reserve is the official Bourbon of the Kentucky Derby, and the controversy developed as the brand was announcing its annual Kentucky Derby $1,000 Mint Julep campaign to raise funds for the Old Friends Thoroughbred Retirement Center.
Editor's note: This story was updated with comments from Woodford Reserve spokeswoman Andrea Duvall.
Links: Woodford Reserve | CNN.com Eatocracy Blog