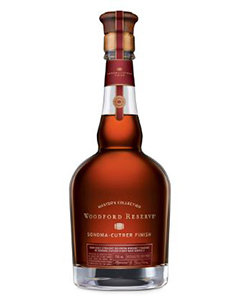 October 12, 2014 – For the second time, Brown-Forman's Woodford Reserve Distillery and Sonoma-Cutrer Vineyards have teamed up on a Woodford Reserve Master's Collection release. The eighth annual edition of the Master's Collection uses Sonoma-Cutrer's Pinot Noir red wine casks to add a final touch to Woodford Reserve's Bourbon. In 2007, the Woodford Reserve Master's Collection release used Chardonnay white wine casks from Sonoma-Cutrer.
In a news release, the whiskey was described as a collaboration between Woodford Reserve Master Distiller Chris Morris and Sonoma-Cutrer Winemaking Director Mick Schroeter. Morris said "our Master's Collection has long been a favorite of mine to produce, as it gives me the chance to focus on and experiment with our five sources of flavor, one of the core attributes of Woodford Reserve. The Sonoma-Cutrer Pinot Noir Finish allowed me to partner with Mick to develop a product that is particularly exciting, both for fans of Woodford Reserve and Sonoma-Cutrer."
The whiskey will be available starting in November at retailers in the US and select international markets, with a recommended retail price of $90 USD per 750ml bottle. Pricing for markets requiring 700ml bottles was not announced.
In addition, Brown-Forman has announced that the Woodford Reserve Double Oaked Bourbon will be available in the UK, with allocations limited to on-premise bar and restaurant accounts for now. There are currently no plans to make the expression available to retailers.
Links: Woodford Reserve | Sonoma-Cutrer