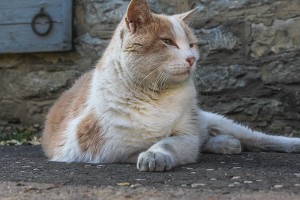 July 25, 2014 – Distilleries and cats have gone together for decades, and most distilleries have had a special "distillery cat" around with the stated purpose of chasing mice away from the grain bins. Of course, the biggest part of the distillery cat's job generally wasn't pest control, but to keep an eye on the humans running the place. This week, Woodford Reserve announced on its Facebook page the passing of Elijah, the 19-year-old tabby cat who prowled the distillery – when he wasn't sleeping in front of a warehouse door.
"We're deeply saddened to announce the passing of Elijah, our beloved Distillery Cat-in-Residence. Elijah called the Woodford Reserve barrelhouse "home" for two decades – often taking the night shift to keep watch over the barrels, ensuring the angels never took more than their share."
In a post on the Woodford Reserve Facebook page, Katie Hecker Carney described how she and her brother found the kitten when they were living near the distillery:
I still remember the day that my brother, Patrick Carney, and I found him at the end of the driveway, next to the creek, and brought him home to the house at the top of the hill. That was probably in the fall of 1995 and he was the tiniest kitten we ever had. I was so worried that our dad wouldn't let us keep him since I had recently promised not to bring home anymore cats. Patrick assured me that he would take care of Dad and insist that it was all his idea. I was so happy when I heard that Zeppelin had taken up residence at the distillery after the family moved to the other side of the farm and you guys adopted him there as Elijah."
Carney was later reunited with Elijah while working in the distillery's catering department.