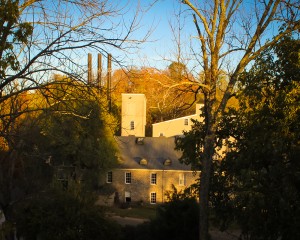 October 25, 2013 – As Brown-Forman starts work on the $35 million expansion project of its Woodford Reserve Distillery in Versailles, Kentucky, the company has announced plans for an additional expansion this fall.
While the original project will be limited to the distillery's production side, with additional stills and warehousing capacity, the new project will expand the visitors center on the hill overlooking the distillery. The center will be remodeled to include a dedicated tasting room, replacing the current tasting tables in the center's common area. There will also be updates to the center's displays and gift shop, along with expanded catering facilities to handle meetings and other events held at the visitors center.
According to Brown-Forman, around 135,000 people visited Woodford Reserve over the past 12 months. The project will cost approximately $1.6 million, and will be eligible for more than $400,000 in tourism-based tax incentives from the Commonwealth of Kentucky over the next ten years.  Work on the project will continue through the winter.
Links: Woodford Reserve