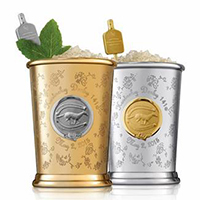 April 15, 2015 – Woodford Reserve has been the official Bourbon of the Kentucky Derby for the last ten years, and is kicking off its annual $1,000 Mint Julep charity campaign ahead of the 141st running of the Derby at Churchill Downs on May 2. The annual campaign has raised more than $410,000 for equestrian-related charities, and will benefit the Wounded Warrior Equestrian Program this year.
This year's sterling silver Mint Julep cup was designed by fashion designer Billy Reid and produced by Louisville silversmiths From The Vault. 90 "Victory Cups" are available to purchase online through April 30 for $1,000 each, with 10 gold-plated "Winner's Circle Cups"  available for $2,500 each. Each cup comes in a hand-crafted oak box designed by Christian Fecht and lined with fabric designed by Billy Reid. The campaign also includes bowties and neckties made from the same fabric available through Billy Reid stores and the fashion brand's web site.
The cups must be picked up at Churchill Downs on Derby Day, and will come with a new Mint Julep recipe created by New York-based bartender Pamela Wiznitzer of The Dead Rabbit:
2 ounces of Woodford Reserve Double Oaked Bourbon
.75 ounce Coconut Palm Sugar Syrup
6-8 chocolate mint sprigs
Candied orange and lemon slices for garnish
Powdered sugar
Combine ingredients and shake with the mint. In the Julep glass, place 3 sprigs of the mint at the bottom and top with crushed ice. Strain over crushed ice into the julep glass and insert a metal spoon straw. Top with a mint sprig, candied orange/lemon slices, and powdered sugar.
Links: Woodford Reserve Mint Julep Cups | Woodford Reserve | Wounded Warrior Equestrian Project | Billy Reid