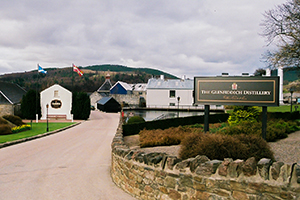 July 6, 2014 – While the larger Scotch Whisky industry has remained relatively neutral on Scotland's independence referendum set for September 18th, one of the industry's key members is backing the "Better Together" movement opposing the referendum. Family-owned William Grant & Sons has confirmed that it has donated £100,000 GBP ($171,420 USD) to Better Together, along with smaller amounts to other groups backing a "no" vote, according to the BBC. The company owns the Glenfiddich, Balvenie, and Kininvie malt whisky distilleries in Speyside, the Girvan grain whisky distillery, and produces the Grant's range of blended Scotch whiskies.
Grant's is the first major whisky producer so far to stake out a side in the debate, while other companies have limited their comments to expressing hopes that a stable economic environment can be maintained no matter which way the vote goes. In a statement provided to the BBC, company executives expressed their belief that Scottish independence could have a negative effect on the future of the company and the larger whisky industry.
"We support the stance of the SWA over independence and would refer you to their recent statement that the Scotch whisky industry enjoys substantial support from the UK government and its worldwide embassy network and from lack of trade barriers within the EU."
The Scotch Whisky Association has not taken an official position on the referendum, but as the trade body's chief executive, David Frost, told WhiskyCast in April, it has concerns that have not been addressed by the Scottish National Party-led independence movement. Frost and his members are afraid that an independent Scotland would not be accepted immediately into the European Union as SNP leaders have claimed, and that could mean an end to the tariff-free export of whisky from Scotland to EU member nations. In  addition, the SWA is concerned about the potential that numerous free trade agreements protecting Scotch Whisky that have been negotiated by UK diplomats with other countries over the last decade could have to be renegotiated by an independent Scotland.
So far, the SNP's only statement on the impact of the referendum on the whisky industry has been a suggestion that Prime Minister David Cameron's pledge to allow a referendum on whether the UK should remain an EU member could force Scotland out of the EU against its will. That referendum has not been officially scheduled, but could take place as early as 2017 depending on the outcome of the next Parliamentary election.
Scotland's Electoral Commission is scheduled to release campaign finance reports from both sides Tuesday, and those reports could indicate whether other whisky producers have joined Grant's in taking sides.
Links: William Grant & Sons