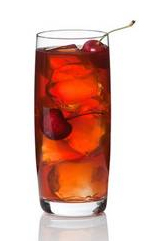 May 31, 2013 – Iced tea is a traditional refresher on a hot summer day, and Wild Turkey passed along this recipe for kicking it up a bit. This recipe makes one pitcher:
4 cups water
8 red herbal tea bags (such as lemon zinger or hibiscus)
2 cups Wild Turkey 81
Splash of club soda
Juice of one lemon
Cherries for garnish
In a large saucepan, boil 2 cups of water. Remove from heat. Add tea bags. Steep 10 minutes; discard tea bags. Add 2 cups of cold water to tea. Stir in Wild Turkey 81. Transfer to pitcher and chill. Just before serving, add lemon juice and a splash of club soda for a touch of refreshing fizz. Serve over ice.