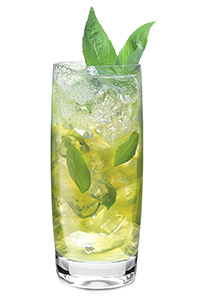 April 28, 2014 – Wild Turkey is supporting Kentucky Derby jockey Rosie Napravnik, who's hoping to become the first woman to win the Derby. The brand has created a special cocktail in her honor, and is also raising money for the Old Friends Thoroughbred Retirement Center with a social media campaign around the hashtag #RideWithRosie.  The donation starts at $10,o00, and the first 10,000 tweets with the hashtag to @WildTurkey until post time on Derby Day will generate a dollar for each tweet. If Rosie's horse wins the Derby, Wild Turkey will double the overall donation up to $40,000.
The cocktail is a variation on the classic Mint Julep:
2 ounces Wild Turkey 81
1 ounce Wild Turkey American Honey
1.5 ounces of lemon juice
Mint sprigs
Crushed ice
Slap mint sprigs in the palm of your hand to release oils. Tear them into pieces and add to a shaker filled with all other ingredients and ice cubes. Shake vigorously. Pour over crushed ice and garnish with a sprig of mint.