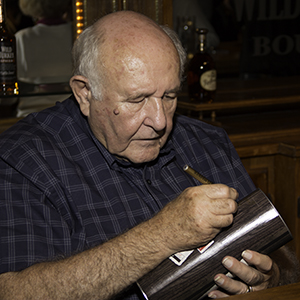 January 16, 2014 – Wild Turkey Master Distiller Jimmy Russell will mark his 60th anniversary with the distillery this year, and a special bottling to commemorate the occasion is in the works. While Wild Turkey has not officially announced the release of "Diamonds" yet, the news was included in the Kentucky Bourbon Affair's announcement this week. Participants in the Wild Turkey event during the Bourbon Affair will get a chance to taste the single barrel Bourbon, for which a release date has not been disclosed.
Jimmy went to work at the distillery in 1954, and trained under Wild Turkey's second Master Distiller, Bill Hughes, and Ernest Ripy, the son of Wild Turkey's original distiller. He was named to the Kentucky Bourbon Hall of Fame's inaugural class in 2000, and is one of only two living distillers with a Bourbon named after him (Russell's Reserve).
For an in-depth interview with Jimmy Russell from 2009, listen to Episode 193 of WhiskyCast.
Editor's note: Wild Turkey announced on March 10 that the Diamond Anniversary expression will debut at the distillery on April 15 during a ceremony to dedicate the new visitors center. The whiskey will be available only at the distillery until this autumn, when it will receive wider — but still limited — distribution. 
Links: Wild Turkey | Kentucky Bourbon Affair