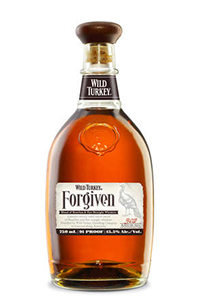 August 19, 2013 – Mistakes don't happen very often in the whisky business, but as with anything involving humans, the occasional error takes place.
That's the official story behind a new limited-edition release from Wild Turkey. Forgiven wasn't created by Jimmy and Eddie Russell in their blending lab, but by workers at the distillery who accidentally vatted together high-proof 4-year-old Rye whiskey with casks of 6-year-old Bourbon. Eddie Russell, Wild Turkey's Associate Master Distiller, said in a news release that the final blend of 78% Bourbon and 22% Rye turned out to be a good combination.
"Much to the distillery team's relief, Forgiven highlights the best of both worlds to create a one-of-a-kind taste that will appeal to both Bourbon and Rye aficionados. I was mad when I first discovered our crew's mistake, but once I tasted it, all was Forgiven."
It's not known how much whisky was involved in the mixup, but there was apparently enough to produce around 38,000 bottles at 45.5% ABV. Wild Turkey Forgiven will be available in the U.S. at a recommended retail price of $49.99.
A similar mixup has only been admitted publicly once in recent years. In 2006, a mistake at Glenmorangie's bottling plant in Scotland resulted in casks of older Ardbeg single malt being dumped into a tank that also contained Glen Moray single malt distilled in 1992. Rather than dump the entire tank, the whisky was bottled as Serendipity and labeled as a blended malt.
Links: Wild Turkey