April 15, 2014 – Wild Turkey officially kicked off what is being called the "Year of Jimmy Russell" with a celebration today at the distillery in Lawrenceburg, Kentucky. The celebration also served as the grand opening for Wild Turkey's new visitors center and caps off a massive development program that saw more than $100 million in new construction for the distillery, a bottling plant, and the new visitors center.
The new center replaces the tiny cabin that welcomed visitors to Wild Turkey for decades. Located across from the original distillery about a quarter-mile away from Wild Turkey's new campus, it was one of Kentucky's first distillery visitor centers and the final part of the original distillery (other than warehouses) to be replaced. In a news release, Campari America President Jean Jacques Dubau projected the new center will draw around 80,000 visitors during its first year.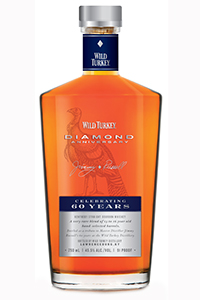 "Last year, our Visitor Center was housed in a tiny 1,000-square-foot house from the 1800s and we still saw a 16 percent spike in visitors to Wild Turkey Hill. With our gleaming, new architectural masterpiece, we finally have a Visitor Center worthy of Wild Turkey's legacy, as well as an outstanding calling card for Kentucky's Bourbon industry."
2014 marks Jimmy Russell's 60th anniversary at Wild Turkey, dating back to when he joined the distillery as an apprentice in 1954. To mark the anniversary, Jimmy's son Eddie created the limited-edition Wild Turkey Diamond Anniversary whiskey from a blend of 13 and 16-year-old whiskies. It will be on sale at the distillery from May through August, and will then be available through retailers this fall with a recommended price of $124.99 (750ml).
Editor's note: This story was updated with photos supplied by Wild Turkey.
Links: Wild Turkey