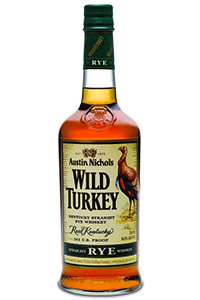 November 18, 2013 – Wild Turkey is bringing back its highly-regarded 101-proof Rye whiskey after a year off the market because of lack of inventory, albeit in limited amounts. The move comes after bartenders led a Facebook movement demanding the return of Wild Turkey 101 Rye, which has become a popular base for many whiskey-based cocktails.
The return will be limited to 21 US markets at first, with one-liter bottles allocated primarily for on-premise sales at bars and restaurants. Wild Turkey pulled the 101-proof Rye off the market in late 2012 because the distillery didn't have enough aged rye whiskey stocks to meet demand, and pointed customers to its 81-proof version released in the spring of 2012 instead. That version uses four and five-year-old rye whiskey, and was originally geared for an audience looking for lower-proof whiskies.
During a September interview with WhiskyCast's Mark Gillespie, Russell said the distillery has been allocating rye whiskey supplies for some time to meet demand. "We didn't know 6 or 7 years ago that Rye was going to make this big jump, and you know, we can't make it overnight, so we're still on allocation…we know right now through 2014," Russell said.
In a news release announcing the return, Russell said the demand from bartenders forced them to change the strategy slightly to make more Wild Turkey 101 Rye available.
"To be completely frank, we didn't realize bartenders had such a passion for it.  Given the bartending community can be directly attributed for the current resurgence in Rye and classic cocktails, we had to listen and take the necessary steps with our available aged stock to bring 101 Rye back."
Earlier this year, Wild Turkey released Forgiven, a limited-edition blending of the distillery's Bourbon and Rye whiskeys created accidentally when workers at the distillery pumped straight rye whiskey intended for Wild Turkey 101 and 81 Rye whiskies  into a tank filled with straight Bourbon. While the accident created a whiskey with a very interesting taste, it set Wild Turkey's rye production plans even farther behind.
Links: Wild Turkey