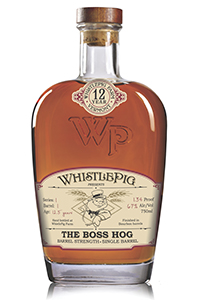 October 12, 2013 – WhistlePig Rye is extending its range of Rye whiskies with "The Boss Hog," a new single barrel uncut and unfiltered Rye whisky. The initial release comes from 24 casks selected by Master Distiller Dave Pickerell and bottled at WhistlePig Farm in Stoneham, Vermont.
"We've always gone after the best tasting Rye available, and this is the best of the best," Pickerell told WhiskyCast's Mark Gillespie during a launch party at The Flatiron Room in New York City. "Whenever we find some truly outstanding WhistlePig, it's going to go into The Boss Hog."
"It was a little gutsy putting it into the bottle at 134 proof (67% ABV), but it just gives you the opportunity to play with it like it deserves to really, really, really enjoy the fullness of the Rye."
Pickerell decided to release the whiskey at barrel strength after experimenting with it by adding a few drops of water at a time. "I put a drop in, and when I did, it peeled back a layer of the spice and it was still interesting, so I put another drop in and it peeled back a little more," Pickerell said. "I realized I'd been playing with this for half an hour, and I thought if I'm having so much fun with this, everyone else ought to have the ability to have fun with it, too."
The Boss Hog will be available in limited quantities at whisky specialist shops where WhistlePig Rye is sold at a recommended retail price of $150.
Links: WhistlePig