April 9, 2014 – Master Distillers Parker Beam and Edwin Foote are the latest inductees in Whisky Magazine's Hall of Fame. Both men were inducted during a ceremony at the World Whiskies Conference today in New York City, joining Barry Crockett, Dennis Malcolm, Jim McEwan, and Frank McHardy as the Class of 2014. Crockett, Malcolm, McEwan, and McHardy were inducted last month during the World Whiskies Awards ceremony in London on the eve of Whisky Live London.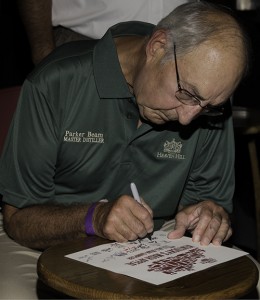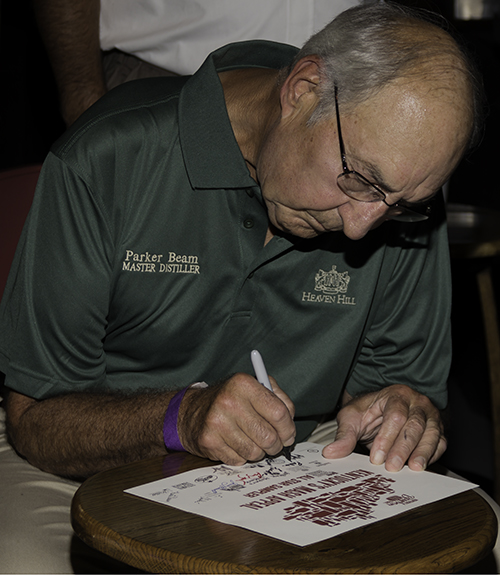 Parker Beam has spent his entire 54-year career at Heaven Hill, following in his father Earl's footsteps and becoming Master Distiller in 1975. Last year, he was diagnosed with ALS, and his fight inspired Heaven Hill to dedicate the 2013 edition of Parker's Heritage Collection whiskey to funding ALS research through the "Parker Beam's Promise of Hope Fund." He was unable to attend the ceremony in New York, but continues to work at the distillery and on his family farm. Heaven Hill's Bernie Lubbers spoke on Beam's behalf and noted that he spent part of the day tending his herd of 200 cattle. Lubbers told WhiskyCast's Mark Gillespie that while the honor came as no surprise to him and his colleagues, Parker Beam himself never saw it coming.
"They didn't know they were going to be rock stars," Lubbers said of both inductees. "Back in the 1970s and 1980s, people weren't talking about that. Wouldn't we all want somebody to recognize us in the twilight of our careers as a lifetime achievement, and this is a worldwide acknowledgement, so he's just blown away by it."
Listen to Parker Beam's speech at his 50th Anniversary celebration on October 23, 2009:

Foote spent much of his career at the old Henry McKenna Distillery in Kentucky, and joined Stitzel-Weller as Master Distiller in 1983. He was the distillery's final master distiller when it closed in 1992, and spent the final years of his career at UDV's Bernheim Distillery in Louisville before retiring. Like Beam, he was also unable to attend the ceremony in New York. His daughters Elizabeth and Margaret accepted on his behalf.
"It was beyond his wildest imagination," Elizabeth Cross told WhiskyCast. "The whole resurgence of Bourbon appreciation and culture and industry has surprised no one more than Dad." Foote was the guest of honor last month at a Kentucky Derby Museum tasting led by Fred Minnick which drew Bourbon aficionados from around the country. He shared the news of his induction in an email with his daughters and son, according to Cross. "He said 'I would love to go, but I just don't believe I can', and he was just absolutely speechless."
Listen to Mark Gillespie's interview with Edwin Foote in September, 2012:

Whisky Magazine created the Hall of Fame several years ago to replace its annual Lifetime Achievement Awards. Beam and Foote are the 21st and 22nd members of the Hall of Fame, which is selected by the magazine's editorial staff and management.
Links: Whisky Magazine Hall of Fame