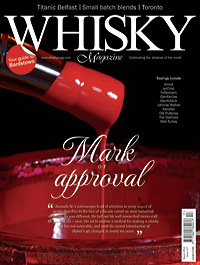 March 21, 2014 – Whisky Magazine editor Rob Allanson is leaving Paragraph Publishing to join William Grant & Sons, where he will serve as Global Brand Ambassador for the Grant's range of blended Scotch whiskies. Allanson will succeed Ludo DuCroq, who was recently promoted to a position overseeing the company's team of brand ambassadors for its various whiskies and other spirits.
"It's been nine years now, it's been a long time," Allanson told WhiskyCast's Mark Gillespie in a phone interview from London, where he helped present the 2014 World Whiskies Awards and Icons of Whisky Awards for the magazine. "Damian (Riley-Smith, the owner of Paragraph Publishing) said last night when he announced it that I've done 50% of the magazine's lifespan now…I'm the longest-serving editor that they've had there, but all good things have to change eventually." He also served as editor for Paragraph's Scotland Magazine in addition to his role at Whisky Magazine.
Allanson will be replaced by Rupert Wheeler, who has contributed stories for the magazine for several years and will serve as managing editor. Wheeler will oversee a team of regional contributing editors responsible for covering whisky news in their specific areas.
Editor's note: Mark Gillespie is a former contributing editor for Whisky Magazine, and stepped aside from his role earlier this year to focus exclusively on WhiskyCast. 
Links: Whisky Magazine