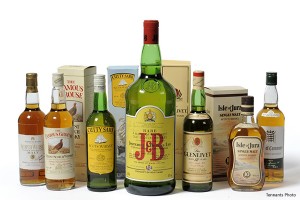 May 21, 2013 – Bottles of whisky signed by Britain's Prime Ministers often show up at auction, but a lot at the recent Tennants auction in Leyburn, England, brought together a rare collection of signed bottles from leaders on both sides of the aisle.
The lot featured 7 bottles signed by former Tory Prime Ministers Margaret Thatcher, John Major, Edward Heath, and Alec Douglas Hume,  along with Labour Prime Ministers Harold Wilson and James Callaghan. Interest in the lot was higher than expected following Thatcher's death on April 8. While pre-auction estimates were in the £200-400 range, the final hammer price came in at £500.
An additional factor in the unique nature of these bottles is that they appear to have been produced during the periods when each Prime Minister was in office, since many were bottled at 75cl well before the European standard of 70cl bottles went into effect.
Margaret Thatcher: 75cl bottle and box of The Famous Grouse
John Major: 3-litre bottle of J&B Rare and a 70cl bottle of House of Commons
Edward Heath: 75cl bottle of The Glenlivet 12
Alec Douglas Hume: 75cl bottle of Cutty Sark
Harold Wilson: Fortnum & Mason 21
James Callaghan: 75cl bottle and box of Isle of Jura
The next Tennants whisky auction is scheduled for September 7, 2013.

Links: Tennants Auctioneers