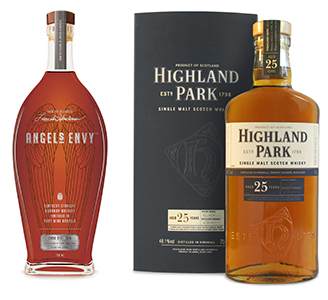 June 11, 2013 – F. Paul Pacult of the Spirit Journal has released his annual list of the world's top spirits, with whiskies dominating the top 10 and a first-ever tie for the title of "Best Spirit in the World". Angel's Envy Cask Strength Bourbon and Highland Park 25 Single Malt Scotch tied for the top spot. In a news release, Pacult described his difficulty in choosing between the two:
"I could not say that the Angel's Envy was even a hair better than the great and venerable Highland Park 25 and therefore I ended up calling a tie for the Best Spirit in the World. Clearly, however, they were the two finest expressions of distillation that I tasted within the last twelve months."
Whiskies took nine of the top ten spots counting the tie at the top. The rest of the Top Ten includes the 2012 George T. Stagg Bourbon from Buffalo Trace, Elijah Craig 20 Cask Strength Bourbon from Heaven Hill, the 30th Anniversary Edition single malt from St. George's Spirits, Longmorn 16 Single Malt from Chivas Brothers, Heaven Hill's 2012 Parker's Heritage Collection Bourbon, Bowmore's 10-year-old Dorus Mor (sold as Tempest outside the U.S.), and the Colonel E. H. Taylor Barrel Proof Bourbon from Buffalo Trace. The two non-whiskies in the top ten were the Christian Drouin 1992 Pays d'Auge Calvados from France and Brugal's Papa Andres 2013 Edition Rum from the Dominican Republic.
The complete list includes 22 American whiskies, 18 Scotch whiskies, and 2 Irish whiskies, and can be found at the Spirit Journal's web site.

Links: The Spirit Journal