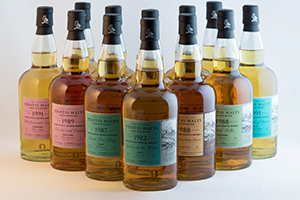 September 29, 2014 – Edinburgh-based Wemyss Malts has released a new batch of single cask Scotch whiskies, with a dozen bottlings spanning the entire range of Scotland's whisky-producing regions along with a single grain from Invergordon. The whiskies will be available at whisky specialist retailers in the UK, Europe and Asia with prices ranging from £70 to £220 per bottle.
The names of the whiskies are selected based on their individual tasting notes as described by noted whisky writer and consultant Charles Maclean, who leads the Wemyss Malts tasting panel:
 Vintage Strawberry Punnet:  1988 Invergordon Single Grain
Sweet Peat Posy: 1987 Bowmore (Islay)
Aniseed Pastille: 1996 Bowmore (Islay)
Thread of Smoke: 1991 Bunnahabhain (Islay)
Smoke on the Water: 1982 Caol Ila (Islay)
Floral Trellis: 1988 Tormore (Speyside)
In a Bluebell Wood: 1995 Glen Grant (Speyside)
Summer Fruit Cup: 1998 Auchentoshan (Lowlands)
Cayenne Cocoa Bean: 1997 Clynelish (Highlands)
Bench with a Sea View: 1997 Clynelish (Highlands)
Peaches and Cream: 1989 Glen Garioch (Highlands)
Blackcurrant Coulis: 1991 Blair Athol (Highlands)
The number of bottles available for each expression was not disclosed.
Links: Wemyss Malts