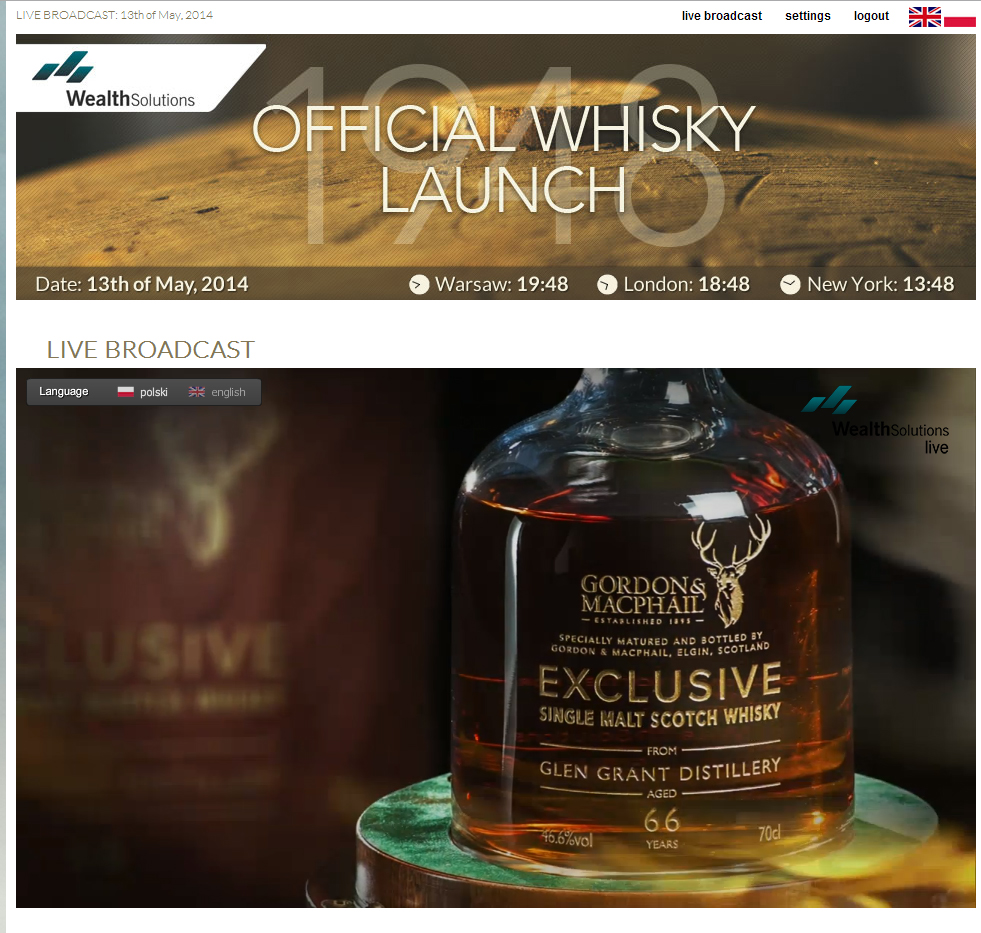 May 13, 2014 – Wealth Solutions, the Warsaw-based investment firm, has collaborated with Gordon & MacPhail on its third release of a rare single malt whisky for the firm's customers. During a live webcast today, the two companies unveiled a single cask bottling of 66-year-old Glen Grant malt distilled for Gordon & MacPhail on April 10, 1948 and matured in a first-fill Sherry butt housed in the company's Elgin warehouse. Only 161 bottles (46.6% ABV) were released, and 159 were sold in advance to Wealth Solutions customers for an undisclosed price. One was poured for audience tasting during the webcast, and the remaining decanter will be awarded as a prize to one of the viewers of the webcast.
"When you taste the whisky, to begin with you just get that lovely chili peppers spicy note coming through," Gordon & MacPhail managing director Michael Urquhart said in a telephone interview. "Adding a drop of water, that chili spice kind of drops back and you get more of that French fruit salad coming through…really absolutely delicious."
Listen to Mark Gillespie's entire interview with Michael Urquhart:

Wealth Solutions entered the collectors' whisky market in 2012 with a single cask 1953 Glenfarclas single malt released in cooperation with the distillery, and followed it up in 2013 with a 1964 Karuizawa Japanese single malt from Number One Drinks Company. The firm specializes in sourcing rare wines, whiskies, and artwork sought by collectors.
Gordon & MacPhail has had long-term contracts with many of Scotland's distilleries to fill its casks with new-make spirit for decades, and is known to have a number of vintage Glen Grant casks in its inventory. In 2012, the company released a 60-year-old Glen Grant single cask to mark the 60th anniversary of Queen Elizabeth's ascension to the throne. Gordon & MacPhail is also responsible for the two oldest whiskies to ever be released: the 70-year-old Mortlach in 2009, and the slightly older 70-year old Glenlivet in 2011. The two whiskies make up Gordon & MacPhail's exclusive Generations range of rare single malts.
Editor's note: This story was updated on May 16 following an interview with Gordon & MacPhail's Michael Urquhart.
Links: Wealth Solutions | Gordon & MacPhail