January 31, 2014 – It's become a ritual when flying into the US…clear passport control, claim your bags, and then try to cram that bottle of whisky from the duty-free shop inside your suitcase before re-checking it for your connecting flight and a visit to the security checkpoint. That changes starting today, as the Transportation Security Administration is changing its rules for carry-on liquids to allow for duty-free alcohol purchases…in most cases.
According to CNN and the TSA's web site, passengers flying into the US from another country will be allowed to carry liquids in bottles larger than 100ml, as long as the bottle is inside the sealed, tamper-resistant bag used for travel retail purchases and can be screened at a security checkpoint. Whiskies being carried through a security checkpoint will be screened using the same scanners that are used for medicines in bottles larger than three ounces.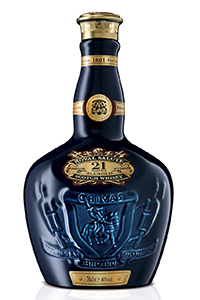 The change is not universal, though. TSA officers must be able to see the liquid inside the bottle as part of the screening process, which may force some travelers to either put a bottle into a checked bag or give up the bottle. The TSA specifically lists ceramic decanters such as those used for the Royal Salute blended Scotch whiskies (pictured), along with opaque and metallic bottles and warns that other containers may not be able to be screened. While not specifically addressed, that suggests that canisters and boxes that cover the entire bottle could be rejected at US security checkpoints. One suggestion — ask that the bottle be removed from its packaging and placed in the sealed bag separately with the packaging.
There is no change in the restrictions for domestic passengers within the US, with liquids restricted to containers smaller than 3.4 ounces (100ml).