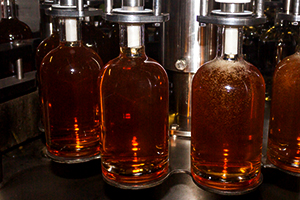 March 13, 2015 – With Chancellor of the Exchequer George Osborne's UK budget announcement less than a week away, Scotch Whisky Association leaders are turning up the pressure on calls for a cut in taxes and duties on whisky and other spirits. The SWA released data from HM Revenue & Customs today showing a 4.78% decline in domestic Scotch Whisky sales during 2014, based on a drop in the number of 70cl bottles sold to 83.3 million during the year. In 2013, the equivalent number was 87.5 million, and the drop has been steady since 2009 when 92 million bottles of Scotch were sold in the UK.
According to the SWA, 78% of the retail price of an average bottle of Scotch sold in the UK goes directly to the government in taxes and duties. In the 2014 budget, Osborne froze taxes on whisky and other spirits while also scrapping the so-called "duty escalator" that automatically raised duties 2% above the annual rate of inflation each year. In a news release, SWA Chief Executive David Frost called for a 2% cut in spirits taxes in this year's budget, which is scheduled to be released on Wednesday (March 18).
"Scotch Whisky is a massive export success for the UK so it's obviously disappointing to see this decline in volumes in our domestic market. In next week's Budget the Chancellor has the perfect opportunity to support an important UK industry. He should cut spirits duty by 2%. This move would also benefit consumers and public finances. In last year's Budget, the Chancellor highlighted Scotch Whisky as a 'huge British success story'. We hope this year too he will show his support for this world-class manufacturing industry."
Frost noted that the UK has only cut spirits duties three times in the last 100 years, and UK residents pay the largest share of spirits duties within the European Union. According to the association, UK residents pay 25% percent of all spirits duties collected within the EU, compared to 15% by the French, 14% by the Germans, and 5% by Spanish residents.
Last month, a senior Treasury official told Parliament that the coalition government recognizes the economic value of the Scotch Whisky industry and its impact on rural areas, while not committing to a cut in duties.
Links: Scotch Whisky Association