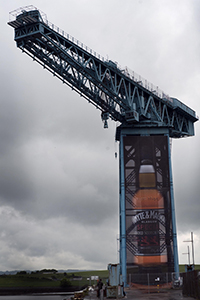 June 3, 2014 – UK competition regulators will open a public comment period on Diageo's plans to sell Whyte & Mackay to Filipino billionaire Andrew Tan's Alliance Global Group for $724.5 million USD. In an email, spokeswoman Siobhan Allen of the Competition & Markets Authority said the public consultation could begin as early as next week, though a final date has not been set. The Competition & Markets Authority took over many of the regulatory duties of the former Office of Fair Trading, which had imposed conditions on Diageo's acquisition of a controlling stake in Vijay Mallya's United Spirits last year.
The OFT objected to the deal on the grounds that allowing Diageo to take control of United Spirits and its Whyte & Mackay unit would place too much of the market for bulk sales of blended Scotch Whisky into Diageo's hands. Diageo had originally offered to resolve the agency's concerns by selling all of Whyte & Mackay except for the Dalmore and Tamnavulin malt whisky distilleries, which it had hoped to retain to supply bulk whisky for use in the United Spirits brands sold in India and other export markets. Tan's agreement to buy Whyte & Mackay covers 100% of the company, and includes a three-year contract to supply whisky to United Spirits. OFT regulators decided to delay approval of Diageo's mitigation plan until after a buyer had been found, with the expectation that the buyer would be obligated to keep supplying private-label customers with blended Scotch whisky.
Assuming the sale is approved, Tan is expected to merge his Emperador brandy unit with Whyte & Mackay. Emperador dominates the Southeast Asian brandy market, and Tan hopes to leverage Whyte & Mackay's global distribution network to expand Emperador's reach into other markets.
Diageo representatives declined to comment on the CMA's decision today. WhiskyCast has also reached out to Alliance Global and Whyte & Mackay for responses. This story will be updated as more information becomes available.
Editor's note: This story was updated following a response from Diageo. 
Links: Competition & Markets Authority | Alliance Global | Diageo | Whyte & Mackay