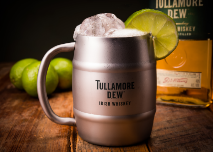 March 31, 2017 – With baseball season starting this weekend, Tullamore D.E.W. brand ambassador Tim Herlihy created this signature cocktail to be served at Boston's Fenway Park, where Tullamore D.E.W. has become the official Irish Whiskey of the Boston Red Sox and will have its own "Tully's Tavern" inside the stadium.
1 part Tullamore D.E.W.
4 parts Ginger Beer
Juice from one fresh lime
Combine all ingredients and pour into an ice-filled mule mug.