Updated July 29, 2022 – American single malt whisky distillers are finally getting the recognition they've sought from the U.S. government for the last six years. The Treasury Department's Alcohol and Tobacco Tax and Trade Bureau (TTB) has now published its proposed standards for American single malts in the Federal Register and opened a 60-day public comment period.
"American Single Malt is already outpacing a lot of other categories in growth, and I think this is only going to serve to fuel that even more," said Steve Hawley of the American Single Malt Whiskey Commission. The group is made up of single malt whisky distillers, and has been advocating for official recognition of the category since 2016. "I think you'll see more people get into single malt production in America, and I think you'll see a lot more exporting of single malt now that there's a standard of identity in place that will not only mean something here, but it's also important to remember that this allows us to have real conversations with export markets and get some reciprocity there as well," he said in a telephone interview Friday.
The proposed standard comes nearly 5 years after Seattle's Westland Distillery and other Commission members filed petitions with the TTB to create a "standard of identity," or official definition of American single malts. Westland co-founder Matt Hofmann told WhiskyCast the proposed definition is almost exactly what the Commission came up with. "For me, that is the first really big win," he said in a telephone interview Thursday. "The second big thing is that it looks like there's an accelerated public comment period…so it seems like we've got everything ready to go for the final act, and hopefully, we could have this thing done by the end of the year."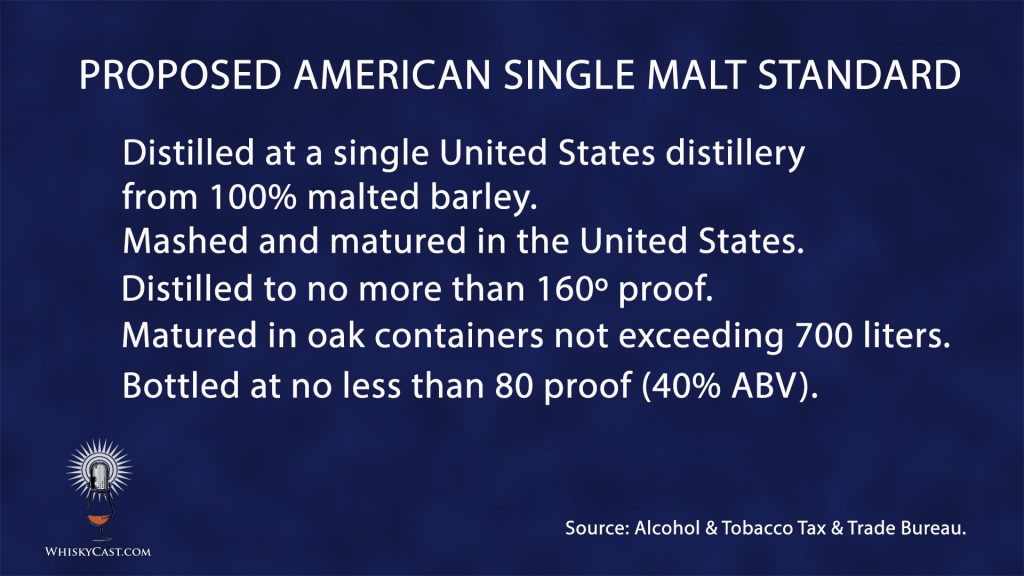 The proposal gives distillers the flexibility to use either used or new oak barrels to mature their whiskies, instead of the new charred oak barrels required for most other forms of American whiskies. It essentially mirrors the requirements Scotch Whisky distillers are held to under Scottish law, and would put American single malts on an equal footing. "To be able to use both used oak and new oak is consistent with what everybody expects of the single malt category at a global level," Hofmann said. "What we wanted out of this definition was to have the structure of American Single Malts, for those words to have meaning that they should but still allow people to innovate, to be able to use both new oak and used oak, and actually non-oak casks as long as it goes into oak at some point…all of that stuff is doable," he said.
The proposed American definition differs from the Scottish standard in two key areas. While Scottish law decrees that single malts must be distilled in pot stills, the TTB's proposal appears to give American Single Malt distillers the choice of using either pot or column stills. In addition, the U.S. does not require a minimum period of aging – other than the two years required for a whisky to be labeled as "straight." Scotland has a three-year minimum maturation requirement. It should be noted that the proposed standard would not have any regulatory effect on single malts produced in Scotland or other countries.
"It really focuses on the two major parts of the word…single and malt, single distillery, and it's gotta be malted barley," said Gareth Moore of the Virginia Distillery Company, one of the co-founders of the Commission. "We're not putting in the other types of restrictions like you'd see in Scotland, like an age minimum of three years, or used oak, or that it must be in pot stills because the industry and the category is still in its relative infancy…every few months, you see someone with a new product out there, and we don't want to limit innovation," he said Friday in a Zoom interview.
Even without an official standard of identity, more than 100 distilleries have been producing American Single Malt whiskies, with many using the existing standards for "malt whisky." That standard only requires the use of 50% malted barley in a mashbill, along with requiring the use of new barrels. The creation of an official standard is expected to lead to even more distilleries jumping into the segment, including some of the nation's largest distillers. As an example, Jack Daniel's this summer released a "triple mash" whiskey that includes malt whiskey, formally acknowledging that the distillery has been laying down stocks of malt whiskey for several years.
"The formal establishment of standards of identity for American Single Malt Whisky is a clear recognition that this rapidly growing category is unique and deserves to be defined and protected as a distinctive product of the United States. Consumer fascination with American Single Malt Whisky is at an all‐time high and establishing a clear definition will drive innovation and help maintain the integrity of this category as more products enter the market," Distilled Spirits Council CEO Chris Swonger said in a statement.
The public comment period will end on September 27, 2022, and agency officials are not bound by a timeline in issuing a final regulation.
Listen to the next episode of WhiskyCast for more on this developing story.
Editor's note: This story has been updated following interviews with Steve Hawley of the American Single Malt Whiskey Commission and Gareth Moore of Virginia Distillery Company. 
Links: Tax and Trade Bureau | American Single Malt Whiskey Commission | Westland Distillery