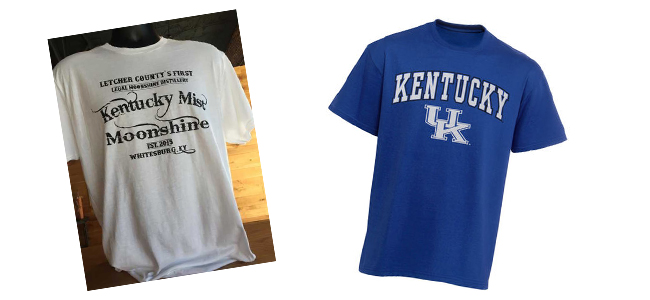 November 6, 2015 – "I love the Cats…I'm a big basketball fan!" Like many people around the Commonwealth of Kentucky, Colin Fultz lives and dies with the fortunes of the University of Kentucky's legendary men's basketball team. With eight NCAA championships, UK basketball is an obsession for people around the Bluegrass State (except for fans of the arch-rival University of Louisville), and like most Wildcats fans, Fultz has a Kentucky shirt in his dresser drawer. As the owner of Kentucky Mist Moonshine in Whitesburg, he'd like to have a few shirts with his logo in that drawer, too.
Before that can happen, he'll have to beat the University of Kentucky…not on the court, but in the courtroom. Fultz and his lawyer filed suit in Pikeville's federal district court this week asking a judge to declare that his Kentucky Mist logo doesn't violate the university's trademark for the "Kentucky" on the UK shirt in his drawer. That follows the university's threat to fight Fultz's trademark application for Kentucky Mist – on clothing. UK was granted a trademark for the use of the word "Kentucky" on clothing by the US Patent & Trademark Office in 1997, and its lawyers sent Fultz a letter last month claiming that his logo would dilute the university's trademark and confuse consumers.
Listen to Mark Gillespie's interview with Colin Fultz:

"I thought it was a joke," Fultz said in a telephone interview. "I got the letter on a Friday, and just so happens my alcohol attorney was at the distillery on Saturday…I showed him the letter and just kinda laughed about it, and he said 'this is serious'." Unlike regular lawsuits, where the one filing the lawsuit is claiming to have been hurt by someone else's action, Fultz's lawsuit asks for a "declaratory judgment" ruling that his logo doesn't violate the university's rights — and also that UK's apparel trademark registration for "Kentucky" be cancelled or modified. The main argument is that the word "Kentucky" is a geographic reference to the state and so generic that it couldn't refer exclusively to the University of Kentucky.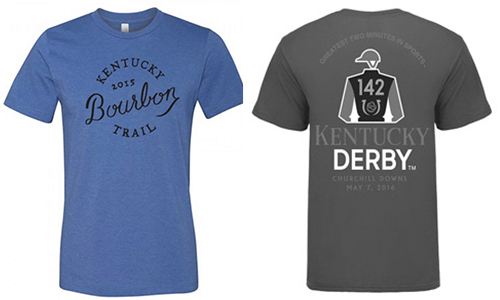 In addition, Fultz's suit cites the fact that hundreds of different t-shirt and clothing items are available with "Kentucky" on them, including Kentucky Bourbon Trail and Kentucky Derby apparel with trademarks owned by the Kentucky Distillers Association and Churchill Downs, Inc.
"I'm sure that they didn't get a letter from the University," Fultz says. According to the UK Athletics web site, the University's trademarks are administered by the UK Athletics Association on behalf of the University.
The University owns and controls its name(s) and other marks, logos, insignias, seals, color schemes, designs and symbols which include the use of, but are not limited to: "Kentucky ®" "University of Kentucky ®", "Kentucky Wildcats ®", "Wildcats TM", "UK®," "UK Wildcats ®", the interlocking UK marks ® with or without the `cat' ®, any wildcat mark ®, the UK Academic logo with Memorial Hall silhouette ®, and The University's Seal ®. These marks are used for sale, promotional, and advertising purposes and are well known and recognized by the general public and associated with the University in the public mind.
Using the University's own list of trademarks as a guide, at least 16 other colleges and high schools could be subject to a UK trademark dilution claim for using the word "Wildcats" on apparel, according to Ranker.com. The list includes the University of Arizona, Villanova University, Northwestern University, Kansas State University, the University of New Hampshire, and Davidson College. Arizona defeated Kentucky in the 1997 NCAA Championship game, while Kentucky defeated Arizona in the 1951 championship game and again in the first round of the 2014 tournament, according to ESPN. It is not clear whether the universities have ever competed in the legal arena over apparel trademark rights for "Wildcats" on clothing.
WhiskyCast has contacted UK Executive Associate Athletic Director Jason Schlafer, who oversees trademark licensing, for the university's position on the Fultz lawsuit, but we have not received a response. The University has 21 days to file its response to the Kentucky Mist lawsuit. For the record, the case has been assigned to US District Court Judge Joseph M. Hood, who has already disclosed to both sides that he is "a graduate of the University of Kentucky and its College of Law, a University of Kentucky Fellow, and a Life Member of the University of Kentucky Alumni Association."
Colin Fultz will not have to change the name for his moonshine, since he was able to successfully register the trademark for Kentucky Mist Moonshine under a separate category for alcoholic beverages. However, his fledgling distillery is so small that it doesn't have a web site and depends on income from gift shop sales, meaning the dispute is threatening his ability to do business. "We're making it from tourists coming in to our gift shop, and we have to be able to sell our t-shirts and stuff like that," he said, noting that he faces an opponent with not just a significant legal budget, but as a public university, one he helps to subsidize with his tax dollars.
"It's like David and Goliath, but you gotta think, who did win that fight," Fultz said. The night he filed his lawsuit, the Kentucky Wildcats opened the 2015-16 season with a 117-58 thrashing of Division II Ottawa University at Rupp Arena in a matchup of David and Goliath that ended in Goliath's favor. Fultz noted that even the Wildcats lose once in a while.
"Sometimes there's an upset…I'm hoping for an upset on this one."
Editor's note: This story has been updated to clarify that the lawsuit was filed in US District Court in Pikeville, Kentucky instead of Frankfort and also provide details on the judge assigned to hear the case. We have provided a PDF copy of the Kentucky Mist lawsuit here. As with all civil lawsuits, court filings only present one side of a dispute, and should not be considered proven facts until argued in court and ruled upon by a judge. 
Links:  UK Athletics Licensing