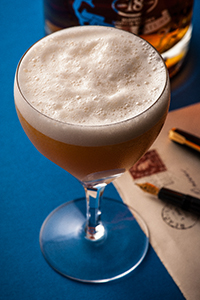 June 5, 2013 – Chivas Regal provided this recipe from noted London mixologist Tony Conigliaro:
50ml Chivas Regal 18
25ml fresh squeezed lemon juice
25ml egg white
15ml chamomile syrup
3 dashes Angostura Bitters
Add the ingredients to a cocktail shaker (no ice) and shake. Add ice to the shaker and then hard shake. Strain and serve simply as it is in coupe glassware.