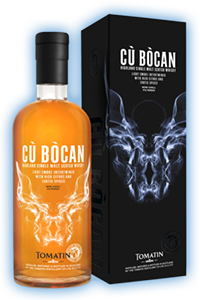 September 5, 2013 – Tomatin's mainstream single malt releases have never been known for their peatiness in recent years, so when the distillery decided to introduce a lightly peated single malt, it needed to stand apart from the rest of the range.
Enter Cù Bòcan (pronounced "koo bok-uhn"), a malt matured in a combination of Virgin Oak, ex-Bourbon, and ex-Sherry casks. The name is said to come from a mythical beast that reportedly prowled the Highlands near the village of Tomatin, and distillery manager Graham Eunson describes it in a news release as "light smoke intertwined with rich citrus and exotic spices.
The malt is bottled at 46% ABV, and will be available worldwide in limited amounts. Tomatin intends to produce 60,000 liters of Cù Bòcan each year, with a suggested retail price of £43.99 ($69 USD) per bottle.