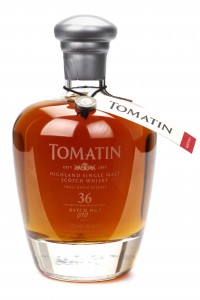 June 29, 2015 – Tomatin is releasing a new 36-year-old single malt from the distillery near Inverness, with just 800 bottles in the initial batch. The new expression will be available worldwide with a recommended retail price of £499.99 ($789 USD) when it hits retailers later this month.
The Tomatin 36 Year Old will replace the distillery's 30-year-old expression, which was discontinued earlier this year. While the initial batch will have just 800 numbered bottles, the distillery has enough stock of older whisky available to make it available on an ongoing basis, according to sales director Stephen Bremner. The whisky is tatted from a combination of Oloroso Sherry and ex-Bourbon casks, and is bottled at 46% ABV with no chill-filtering or caramel coloring.
Tasting notes will be available at a later date.
Links: Tomatin