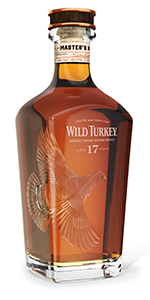 May 22, 2015 – Here's a roundup of new whiskies announced this week…
On this week's episode of WhiskyCast, we had hints of the first release that Eddie Russell has created for Wild Turkey since being promoted earlier this year to Master Distiller alongside his father, Jimmy Russell. We have more details now on Master's Keep, a 17-year-old Bourbon that will be released in August.
Master's Keep is the oldest whiskey Wild Turkey has ever released, largely because Jimmy Russell has never wanted to release anything older than 15 years. The limited-edition Bourbon was matured in so-called "traveling casks" that were moved every few years between various Wild Turkey-owned wood and stone warehouses around Kentucky. It has been bottled at 43.4% ABV, and will have a recommended retail price of $150 (USD) per bottle.
Also on the Bourbon front, Buffalo Trace has released the latest two Bourbons in its Experimental Collection series. While there's a common belief that US law requires the use of American White Oak barrels to mature Bourbon, the requirement only states "new charred oak" – and Buffalo Trace laid down several casks of whiskey in 2005 using French Oak. Some of the barrels were 100% French Oak, while others were made with French Oak heads and traditional American White Oak staves, but all were filled with the same spirit using the distillery's rye-focused Bourbon mashbill. The experiment is reminiscent of one of Buffalo Trace's first Experimental Collection releases using French Oak barrels in 2006. The 100% French Oak Barrel Aged Bourbon and French Oak Barrel Head Aged Bourbon were bottled at 45% ABV in 375ml bottles, and will be available in limited quantities for a recommended retail price of $46.35 (USD).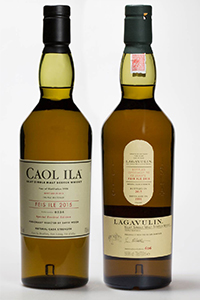 This weekend marks the beginning of the annual Islay Festival of Malt & Music in Scotland, and Diageo has unveiled the two Feis Ile bottlings to be available exclusively at Lagavulin and Caol Ila distilleries during the festival from May 23-30.
Lagavulin's bottling was selected again this year by longtime warehouse manager Iain MacArthur, and is a triple-matured single malt originally distilled in 1991. Following the original maturation period in ex-Bourbon casks and a second maturation in Pedro Ximenez sherry casks (similar to the formula for the Lagavulin Distiller's Edition release), the whisky was filled into old oak puncheons and allowed to rest until bottling at a cask-strength 59.9% ABV. 3,500 bottles will be available beginning Saturday, May 23 at the distillery for £128 ($198 USD).
Caol Ila's bottling was selected by distillery manager David Wood, and followed a similar process to the Lagavulin malt following its distillation in 1998. The original maturation in ex-Bourbon casks was followed by time in Moscatel wine casks (also the formula for the Caol Ila Distiller's Edition), with final maturation in old oak puncheons. It has been bottled at 57.3% ABV, and 1,500 bottles will be available starting on Caol Ila's open day Monday, May 25 at £99 ($153 USD). Diageo plans to limit purchases by visitors at both distilleries to make sure more people have a chance to obtain them.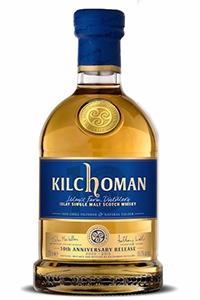 Kilchoman is celebrating its 10th anniversary during this year's Festival, and will release a special bottling blended from ex-Bourbon and ex-Sherry casks filled between 2005 and 2012, including a small amount of whisky from the very first cask filled when the distillery opened in 2005. 3,000 bottles (58.2% ABV) will be available for purchase exclusively at the distillery for £89 ($137 USD) per bottle.
While none of the Islay distilleries have acknowledged it as a specific reason, all three of the festival bottlings are bottled below 60% ABV. Islay's Glenegedale Airport bans passengers on Flybe flights between Islay and Glasgow from traveling with whisky stronger than 60% ABV in checked baggage, and airport security officers have been known to confiscate cask-strength bottlings above the limit. There is no such limit for passengers on the CalMac ferries from Islay to the Scottish mainland.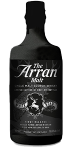 Arran plans to limit purchases of its newest single malt, which will be available exclusively to members of the distillery's White Stags affinity group beginning June 15 at the Arran web site. Members of the group picked the 18-year-old ex-Sherry hogshead cask from five finalists selected by the distillery team during a tasting session at Glasgow's Oran Mor whisky bar in January. 214 bottles will be available at £95 ($148 USD), and each bottle will carry the names of the members of that tasting panel.
Editor's note: This story was updated on June 10 to include a photo of the Arran White Stag bottling.
Links: Wild Turkey | Buffalo Trace | Lagavulin | Caol Ila | Kilchoman | Arran