November 22, 2013 – There have been announcements of several new whisky releases this week that will be arriving in various markets soon, in addition to the previously reported return of Wild Turkey 101 Rye.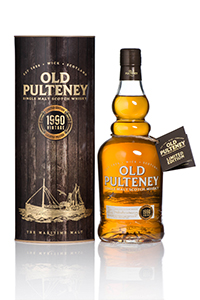 Old Pulteney is releasing a "peated" 1990 vintage single malt. While the distillery in Wick doesn't use peated malt in its production, this whisky was matured for around 23 years in ex-Bourbon and ex-Sherry casks previously used for maturing heavily peated malts. Those casks imparted a peaty essence to the Old Pulteney whisky, which has been bottled at 46% ABV with no chill-filtering.
Only 900 cases of Old Pulteney 1990 Vintage will be available worldwide, with a recommended retail price of £120 ($195 USD).
Glenfiddich is releasing another edition in its Age of Discovery series. Age of Discovery Bourbon Cask Reserve was matured for 19 years in ex-Bourbon casks, and represents the first expression from Glenfiddich to use ex-Bourbon casks exclusively. It's bottled at 40% ABV, and carries a recommended retail price of around $180 USD per bottle.
Sazerac's A. Smith Bowman Distillery in Fredericksburg, Virginia has released the second edition of its Abraham Bowman Port Finished Bourbon using Port wine casks from a nearby winery. This edition is 12 years old, and spent four months in the Port casks. The 2012 edition used 8-year-old whiskey, and was finished for eight months in similar Port casks from a different Virginia winery. The 2013 edition will be available in very limited quantities with a recommended retail price of $69.99 per bottle.
The English Whisky Company is releasing Chapters 14 and 15 of its British single malt whisky. Chapter 14 is the distillery's traditional single malt, while Chapter 15 is the peated version. Both were matured for around 5 years, and are bottled at 46% ABV, with a recommended price of £44.99 ($73 USD) A limited number of cask-strength bottlings of both are available through the distillery's web site at £75.00 ($122 USD) each.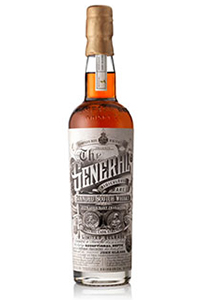 Compass Box's John Glaser combined his blending skills with a classic movie reference for "The General" — which was an old steam locomotive featured in a Buster Keaton movie. Glaser was recently offered two batches of vintage blended Scotch whisky from different companies that had been left to mature in casks for years — 33 years in one case. He decided to blend the two batches together, and the result is "The General". It's being bottled at 53.4% ABV, with just 1,678 bottles to be sold. The whisky will go on sale in the UK and Europe this week, with a launch in the US expected next March.
As reported earlier this year, Cutty Sark is releasing Prohibition Edition to mark the 80th anniversary of Prohibition's repeal on December 5. The blend features a spicier and stronger recipe than the traditional Cutty Sark whiskies, and is being bottled at 50% ABV. The recommended price is $29 USD for a 750ml bottle.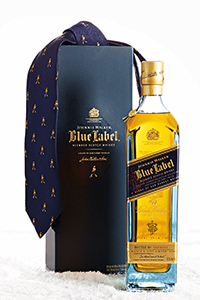 Johnnie Walker has announced a partnership with Brooks Brothers to celebrate the clothing retailer's 195th anniversary. The Brooks Brothers Limited Edition Johnnie Walker Blue Label features an engraved Golden Fleece logo on the bottle, and will retail for $249 USD. In addition, Brooks Brothers is offering an exclusive tie featuring Johnnie Walker's Striding Man logo, and will offer customers the opportunity to host an exclusive Johnnie Walker Brooks Brothers Experience tasting in their home for 26 guests. The Experience costs $10,000, and will be led by one of Johnnie Walker's brand ambassadors. Each guest will receive a bottle of the Brooks Brothers Limited Edition Blue Label and a Striding Man necktie. A percentage of the proceeds from the Experience will benefit Career Gear, a charity which provides career counseling and clothing for people in need.
Links: Old Pulteney | Glenfiddich | A. Smith Bowman | English Whisky Company | Compass Box | Cutty Sark | Johnnie Walker | Brooks Brothers