April 28, 2017 – It's been a big week for announcements of new whiskies from around the world, and even a rare sneak preview of Diageo's annual Special Releases from its Classic Malts range.
Traditionally, the world's largest Scotch Whisky producer announces its Special Releases lineup in the autumn, but gave whisky lovers a taste of what will be coming out later this year. The release lists nine of the ten whiskies in the 2017 series, but in a statement outlining the upcoming releases, Diageo Director of Whisky Outreach Dr. Nick Morgan said "We're keeping one in our back pocket as a surprise for you all later on this year."
Here's what we know will be coming, though prices were not disclosed. Closed distilleries are highlighted with an asterisk. 
1979 Port Ellen* bottled after 37 years in a combination of refill American Oak hogsheads and butts (51% ABV, 2,988 bottles)
1982 Brora* bottled at 34 years of maturation in refill American Oak hogsheads (51.9% ABV, 3,000 bottles)
1984 Convalmore* bottled after 32 years 

in refill American Oak hogsheads (48.2% ABV, 3,972 bottles)

1964 Port Dundas* single grain matured for 52 years in 

in refill American Oak hogsheads (44.6% ABV, 752 bottles)

1993 Blair Athol matured for 23 years in ex-Bodega European Oak butts (58.4% ABV, 5,514 bottles)
Caol Ila 18 matured 

in refill American Oak hogsheads (59.8% ABV, limited quantities available worldwide with no number announced)

Glen Elgin 18 matured in 

in ex-Bodega European Oak butts (54.8% ABV, 5,352 bottles)

Lagavulin 12 matured in 

in refill American Oak hogsheads (56.5% ABV, limited quantities available worldwide with no number announced)

Teaninich 17 matured in refill American Oak hogsheads and barrels (55.9% ABV, 

limited quantities available worldwide with no number announced)
Diageo's statement did not specify which expressions will be available in specific markets. Traditionally, not all of the 10 whiskies released each year are available in the U.S. or most other major whisky markets. Those details will likely be announced later this year when recommended retail pricing and photos of each expression are released.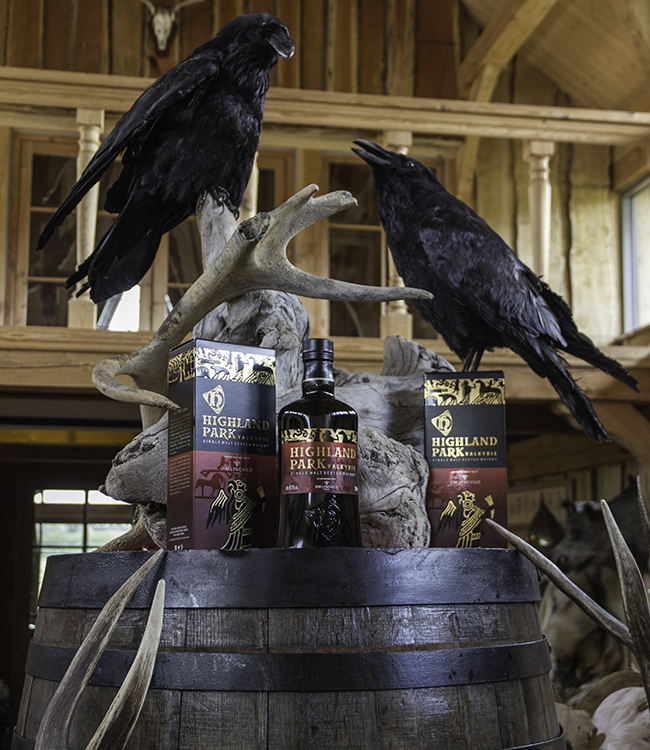 Highland Park unveiled its new Valkyrie single malt from Orkney in Denmark this week, along with new packaging that will be available soon in most markets for the distillery's 10 and 12-year-old expressions, and later this summer for the 18-year-old single malt. Valkyrie's packaging was created by Danish designer Jim Lyngvild, who traces his Viking ancestry all the way back to the first Earl of Orkney, where Vikings ruled the islands for eight centuries until ceding control to the Scots in 1472. The whisky was created by Gordon Motion using spirit distilled from 100% peated malt produced at the distillery. Typically, Highland Park uses a ratio of 20% peated malt to 80% unpeated malt in distilling, but has been laying down casks of 100% peated malt for around a decade now.
"We were looking for a new series that's starting to go towards Valhalla…Viking Heaven, if you want, and it just seemed the perfect time to start using some of this heavily peated stock," Motion said in an interview for this week's WhiskyCast. "It fits the right character," he said, noting that the heavily peated whisky makes up about half of the blend using a combination of first-fill ex-Bourbon and American Oak ex-Sherry casks with a few refill ex-Sherry casks. Valkyrie is bottled at 45.9% ABV, and is already available in the UK and some European markets at a recommended retail price of £55 GBP ($71 USD). It will be available in the US as well, though US pricing for 750ml bottles has not been confirmed yet.
In addition to Valkyrie, Highland Park announced other major changes to its range. The 15-year-old and Dark Origins bottling are being discontinued, while a new Magnus expression will be available in the US market at the end of the summer. Full Volume is a rare 100% ex-Bourbon cask expression that will be released in most global markets worldwide later this year as a replacement for the 15-year-old Highland Park.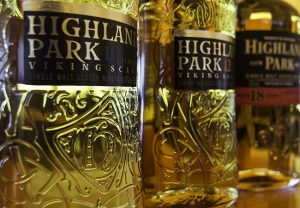 While the whiskies in the 10, 12, and 18-year-old Highland Park expressions have not been changed, they will be getting new names in addition to their age statements. The 10-year-old will be known as "Viking Scars" and the 12-year-old gets the added name "Viking Honour." The 18-year-old will be known as "Viking Pride." All three will appear in new bottles heavily embossed with designs inspired by an ancient Viking church in Ornes, Norway that feature a lion fighting serpent-like dragons depicting the ancient battle between good and evil.
This week's WhiskyCast from Copenhagen will have more details on the Highland Park story.
In addition, we also have news on several new Irish whiskies, including two single malts with a connection to Scotland. Liam Ahern and his wife, Jennifer Nickerson, have established the Tipperary Distillery, and have released two new whiskies crafted by Jennifer's father, longtime Scotch Whisky distiller and blender Stuart Nickerson. Knockmealdowns comes from six ex-bourbon barrels filled 10 years ago at an undisclosed distillery, while Watershed also uses six first-fill ex-Bourbon barrels but carries no age statement. Both whiskies are bottled at 47% ABV, and are available in the US as well as Ireland.
Prizefight from Pugilist Spirits is a unique collaboration between West Cork Distilling in Ireland and Tamworth Distilling in New Hampshire, which supplied American Oak Rye whiskey casks to finish the whiskey. It's available in Ireland with a recommended retail price of €50 ($55 USD). No plans have been announced for export sales yet.
Links: Classic Malts | Highland Park | Tipperary Distillery | Prizefight Irish Whiskey