By Mark Gillespie
December 30, 2019 – The end of a year always brings with it reflections of the events that shaped the year. While the "year in review" piece is an annual rite for reporters, if one remembers that journalism is what's always been referred to as the "first draft of history," then it makes some sense to take a look back.
That said, here are my Top Five stories for the whisky world in 2019. There's no polling to determine this list – just my gut instincts based on the stories we focused most on at WhiskyCast during the year.
#1: The Politics of Whisky 
Given the number of stories we did on politics and whisky during 2019, this has to be the obvious choice. That's because the political events of 2019 (and the couple of years leading up to it), have the potential to derail years of consistent growth in whisky sales around the world fueled by consumer demand.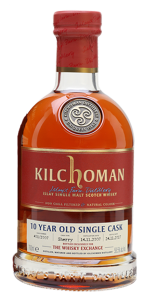 The impact of the Trump Administration's decision to impose a 25% tariff on imports of single malt whiskies from Scotland and Northern Ireland in mid-October really has yet to be determined. By that time, most importers had already received their shipments for the holidays. While Kilchoman and its U.S. importer Impex received much-deserved praise for announcing plans to absorb the cost of the tariff on future shipments, it's not clear how many other importers will be able to do the same when they start placing new orders after the holidays.
While most Irish Whiskey companies were able to breathe a sigh of relief in October after escaping the initial U.S. tariff, they rightly decided to keep a low profile in the media and not risk poking the bear. A wise move, considering that the ongoing aircraft subsidy battle between the U.S. and the European Union now has the Trump Administration proposing to not only raise the current tariff on whiskies to as high as 100 percent, but is reviving the threat to extend that tariff to all other whiskies from EU member nations. Industry groups will be lobbying both Washington and Brussels in January to ease the tensions that have made whisky collateral damage in the larger trade conflict between the two sides.
What could the potential long-term impact of the U.S. tariff have on whisky imports? We can use the EU's 25% tariff imposed on American whiskey imports in July of 2018 as an example. Between January and October of 2019, American whiskey exports to Europe fell by 28% compared to the same period in 2018 according to data provided by the Distilled Spirits Council.
Brown-Forman, the largest publicly-traded U.S. whiskey maker, has estimated the cost of the EU tariffs at $125 million annually – and that does not include the tariffs it's now paying to import the single malts from its three Scottish distilleries into the United States. While Brown-Forman, Beam Suntory, and other major U.S. whiskey makers have the ability to absorb some of those costs, the impact has been largely felt by smaller distillers and importers. They already faced retail pricing disadvantages against larger competitors because of higher production costs, and the EU tariff has either sharply affected or completely eliminated export sales by many smaller U.S. brands. 
Also on the political side…
Congress and the Trump Administration did agree at the last minute to extend for one year the federal excise tax break that primarily benefits small-scale distillers and the tax deduction for "capitalized interest" that allows distillers to deduct the interest they pay on loans secured by their maturing whisky inventory. However, that means the industry will have to spend another year lobbying in Washington to get those changes made permanent and remove the roadblock to long-term stability within the industry. 
#2: Mergers & Acquisitions
The largest deal of the year was Heaven Hill's purchase of Black Velvet Canadian Whisky from Constellation Brands in August. The deal was valued at $266 million, including the Black Velvet Distillery in Lethbrdge, Alberta. It is the first expansion outside the United States for the Shapira family, and gave the company control of one of the largest-selling Canadian Whisky brands.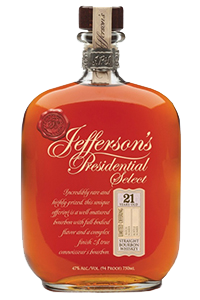 August also brought Pernod Ricard's $223 million acquisition of Castle Brands, which produces Jefferson's Bourbon, Knappogue Castle Irish Whiskey, and other spirits brands. Jefferson's was the key brand in the deal for Pernod Ricard, which made its third major acquisition of the year in the American Whiskey industry. Pernod Ricard CEO Alexandre Ricard's bets on continued growth in American Whiskey sales included the purchase of Louisville's Rabbit Hole Distilling and Firestone and Robertson Distilling in Fort Worth, Texas, with plans to market all three in the premium segment of the whisky market.
It remains to be seen where Knappogue Castle will fit into the company's long-term plans, since Pernod Ricard's Irish Distillers unit already dominates the premium segment of the Irish Whiskey market with Redbreast, Powers, and Midleton, while Jameson is the world's largest-selling Irish Whiskey brand. While there has been no indication that Knappogue Castle might be for sale, it would not be a surprise given the company's stated desire to focus on premium brands across its portfolio. 
Ricard's moves have so far helped fight back against criticism from activist shareholder Paul Singer's Elliott Management. In late 2018, the hedge fund bought a billion-dollar stake in Pernod Ricard and Elliott started making noises about shaking things up at the company. Ricard replaced some of his board members this year, and had already started making other internal changes to boost profit margins. So far, Singer appears to be going along. 
#3: China
Western whisky makers have bent over backwards trying to make inroads into the Chinese market for years. While whisky sales in China continue to grow by double-digit percentages on an annual basis, there are developments worth watching that could have a long-term impact. China's economy has started to slow down after years of rapid expansion, and it's not clear what the impact of the ongoing trade dispute with the United States might have on economic growth. 
In addition, Western whiskies will start to see more competition in the coming years from within China. In August, Pernod Ricard broke ground on China's first malt whisky distillery in Sichuan province. The $150 million dollar project is expected to start production in 2021, with plans to sell its whisky primarily in China's domestic market. Earlier this month, a Chinese energy firm announced plans to build a malt whisky distillery in Inner Mongolia with help from Scottish firms.
Baiju remains China's most popular distilled spirit, and a growing domestic whisky market could cut into export sales over time. 
#4: Continued Growth in American Single Malts
More than 200 distilleries are now either selling their own single malt whiskies or maturing them for future sale. This is one of the few areas of the American Whiskey market where major distillers have largely stayed on the sidelines, and that has given small-scale distillers a foothold to compete on their own terms.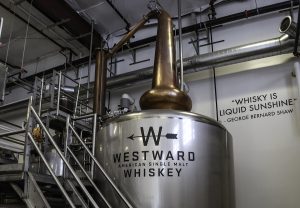 The one thing that could send this category into orbit would be an official definition of "Single Malt" in U.S. federal regulations. When the Treasury Department's Tax & Trade Bureau (TTB) unveiled its proposed re-write of the federal regulations governing whiskies at the end of last year, it did not include a "standard of identity" for single malts, and there hasn't been one since the regulations were first written in 1935. Instead, "single malts" are lumped in with "malt whisky" and its tolerance for a mash bill of just 51% malted barley along with the requirement for maturation in new charred oak barrels.

American Single Malt distillers have been lobbying the TTB to include a definition more closely aligned with Scotland's, which requires 100% malted barley and would allow for the use of used barrels as well as new ones. The Title 27 rewrite is in regulatory limbo right now following a public comment period earlier this year, and distillers are hoping that an American Single Malt category could be part of the final package of regulations. 
#5: Growth in "World Whiskies"
Let's end with a positive note.
We're still seeing growth in so-called "world whiskies," those that come from non-traditional whisky-producing nations – essentially everywhere other than Scotland, Ireland, the U.S, and Canada. Sales are still small, and basically amount to a rounding error when overall whisky sales worldwide are calculated, but there's plenty of anecdotal evidence to support this argument given the emails I receive regularly asking if I've "heard anything about such and such whisky and whether it's any good" or from emerging distillers asking me to taste and review their whiskies.
The growth of small-scale distilling has expanded the market for distilling equipment in recent years, and that's helped bring down some of the startup costs for a small-scale distillery. As the initial releases from some of those distilleries start to reach the market, we're seeing more and more good whiskies from places like Sweden, Germany, Italy, Israel, and Australia…just to name a few.
That can only be a good thing for the world of whisky…
Here's hoping that 2020 is a year with less political intrigue, economic stability, and of course…more good whiskies for all of us!