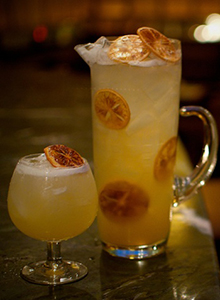 December 6, 2013 – The bartenders at the Stanton Social in New York City created this punch recipe shared with us by their PR firm. While it calls for Stranahan's Colorado Whiskey, you may well need to substitute another type of Bourbon or American whiskey because of the limited availability of Stranahan's.
1 1/4 cups Pineapple Infused Stranahan's
3/4 cup of Coriander Pineapple Syrup
1/4 cup of fresh Lemon Juice
4 cups of Fresh Pineapple (Puréed)
Begin by infusing the Stranahan's Colorado Whiskey with 1/4 cup of fresh cubed pineapple for 24 hours. Then, purée 4 cups of fresh pineapple in a blender and strain well through a fine strainer.
Combine pineapple infused Stranahan's, strained pineapple purée, 3/4 cup of coriander pineapple syrup, and fresh lemon juice in a pitcher or punch bowl, and chill for at least one hour. When ready to serve, add ice. We love using large cubes of frozen pineapple instead of ice for great fresh and long-lasting fruit flavor. Garnish with several caramelized lemon slices. Serves 8-12 guests.