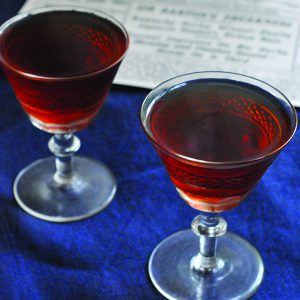 May 20, 2016 – With the 141st running of the Preakness at Baltimore's Pimlico race track this weekend coinciding with this week's publication of Michael Dietsch's "Whiskey: A Spirited Story with 75 Classic & Original Cocktails," we thought it would be appropriate to share his recipe for the original Preakness cocktail. This Rye Whiskey-based drink is a variation on the Manhattan, and was the official drink of the Preakness from 1936 until it was eventually replaced by the Black-Eyed Susan in the 1980's. The recipe for that cocktail has gone through a number of changes over the years, but was originally based on vodka, rum, and triple sec. Frankly, with Baltimore's heritage of Rye Whiskey distilling beginning to show a resurgence with several new distilleries coming on line, we think this is a much more elegant and appropriate cocktail.
1.5 ounces of Rye Whiskey
3/4 ounce of sweet Vermouth
1/4 ounce of Bénédictine
1 dash of Angostura bitters
Lemon peel
Fill a mixing glass 3/4 full of ice, then add the whiskey, vermouth, Bénédictine, and bitters. Stir for about 30 seconds, or until well-chilled, then strain into a chilled cocktail glass. Squeeze the lemon peel over the surface of the glass, rub the rim with the peel, and drop the peel into the glass. 
Editor's note: This article has a link to purchase the book in the WhiskyCast Bookstore powered by Amazon. CaskStrength Media receives a small commission on all sales.
Links: "Whiskey: A Spirited Story With 75 Classic & Original Cocktails"