Since so many people are working from home, "self-isolating" or more because of the coronavirus crisis, we've decided to produce some extra content to help you pass the time.
Earlier this month during DramFest 2020 in Christchurch, New Zealand, WhiskyCast's Mark Gillespie took part in a panel discussion on "the past and future of whisky" with veteran whisky writer Charles Maclean, Michael Fraser Milne of the Whisky Galore shop in Christchurch, and moderator Dave Broom.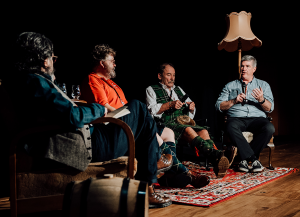 Their hour-long discussion is a bit too long for one of our regular episodes, but we thought you might enjoy listening to it on its own. The panel covered everything from the collapse of the Scotch Whisky industry in the early 80's to what the future holds given the combination of a growing craft distilling movement, global politics, and climate change.
Thanks to Michael and Stella Fraser Milne of Whisky Galore and DramFest 2020 for helping to make this special episode possible, along with the sound crew at Christchurch Town Hall and the staff at Whisky Galore.
Photos courtesy of Whisky Galore/DramFest.