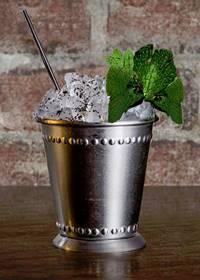 May 3, 2018 – The Mint Julep is as much a part of the Kentucky Derby as fancy hats and ripped-up betting slips, but many people associate the Derby's official cocktail with the mass-produced stuff served in plastic cups to rowdy revelers in the Churchill Downs infield. The Mint Julep has a much more cultured origin dating back centuries, as Heaven Hill's National Brand Educator Lynn House explains.
"The name julep is an adaptation of a Spanish Arabic word, julepe, which is actually an adaptation of an Arabic word, gholab, which literally meant "sweet rose water," House says. The word julep means "sweetened drink," and juleps were used for medicinal purposes by muddling herbs and leaves with spirits to create a tonic for stomach issues.
Listen to Mark Gillespie's conversation with Lynn House:
Kentucky's Henry Clay gets much of the credit for bringing the Mint Julep out of Kentucky, according to House. When he left Kentucky for Washington to serve in the Senate in 1806, he took a Mint Julep recipe with him and made it popular in the nation's capital. In 1938, the Mint Julep became the Kentucky Derby's official cocktail.
Want a Mint Julep recipe? Lynn House shared hers with us.