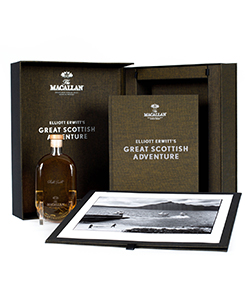 October 26, 2013 – The Macallan's latest release in its Masters of Photography Series of limited-edition bottlings features legendary photographer Elliott Erwitt's view of Scotland. Erwitt's "Great Scottish Adventure" took him around Scotland to make photos of the people (and the dogs, his favorite subjects) that make Scotland unique.  His travels included the Highlands and the Islands, along with Edinburgh and Glasgow.
Erwitt is the fourth photographer to be featured in the series, along with Rankin, Albert Watson, and Annie Leibovitz. The Macallan's whisky maker, Bob Dalgarno, selected 58 single casks for this year's release. Each cask was paired with one of Erwitt's original prints, with 35 bottle and print combinations to be available for each cask. The Elliott Erwitt Edition includes a signed and numbered 11″ x 14″ print, along with a book featuring 158 of Erwitt's images from his Scottish adventure. The book also contains a custom 375ml glass flask filled with the single cask whisky matched to the print.  Only 35 sets of each print and whisky combination will be produced, for a total of 2,030 bottles worldwide.
In a news release, Erwitt compared the art of photography and the "decisive moment" to the art of making whisky:
"Photography is an art of observation – it's about creating something extraordinary out of the ordinary. You choose a frame and then wait until the right time for something magical to come along and fill it. I realized while working on this project that this is exactly the way Bob, the Whisky Maker, works when creating The Macallan. He envisages how he wants a particular whisky to taste, selects the perfect cask to create it, and then he waits! Timing is everything,"
The recommended retail price for the Elliott Erwitt Series package is £1,500 ($2,425 USD).
Links: The Macallan