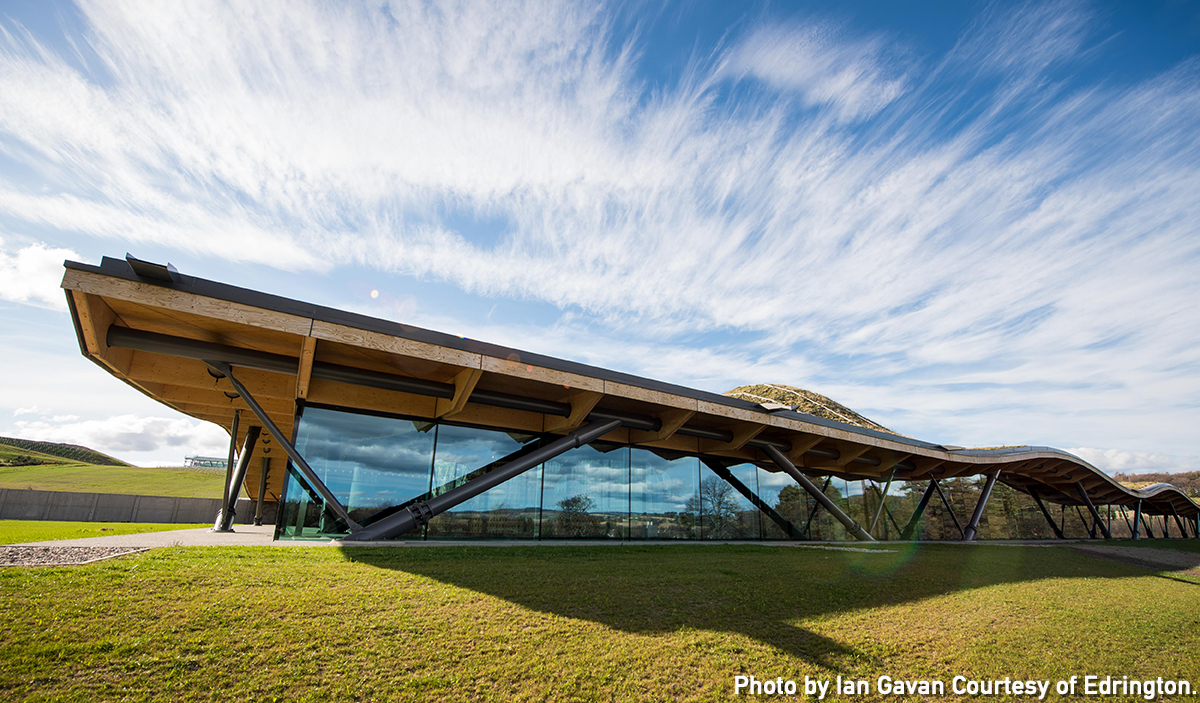 May 22, 2018 – With a laser light show over the Speyside countryside that apparently had some people in the area fearing an alien invasion, Edrington opened the doors Monday night on the new home of The Macallan, a £140 million ($188 million USD) state of the art distillery adjacent to the old distillery along the River Spey. The project took more than six years from concept to completion, and is part of an overall £500 million ($671 million USD) investment by Edrington in its flagship single malt whisky brand.
"The distillery itself is an architectural marvel," said The Macallan Creative Director Ken Grier. London-based architects Rogers Stirk Harbour + Partners designed the building, which was cut into the rolling slope of the landscape and uses one of the most complex timber roof structures in the world. The interior is approximately 161,000 square feet (14,960 square metres), and its 36 stills will eventually allow The Macallan to increase annual production by a third to around 14.6 million liters of spirit. The old distillery, which was mothballed after the new stills were commissioned in late 2017, produced around 11 million liters annually at peak output.
The formal opening of the new distillery was delayed until completion of the distillery's new visitors center, which will open to the public June 2. Tours will be limited to 12 people at a time, and and will span the length of the distillery with a glass wall separating visitors from the production process.
"It's a true marvel, because you have this incredible glass window, which gives you this uninterrupted view of the River Spey, you have this connection to the (Easter Elchies) house back through the cut from the distillery to our spiritual home, and of course, you have this incredible bar that sits right next to these three wonderful still sets – each with 12 stills in them. So, you have this fantastic flow – this great aesthetic connection in the whole building," Grier said in a telephone interview for the next episode of WhiskyCast.
The facility was designed to replicate the spirit produced at the old distillery as precisely as possible, though parts of the process were changed after extensive research. While the old distillery used three "waters," or soaking runs in the process of "mashing" its barley to extract starches, the new facility will use four runs. However, the process was designed with no net increase in water usage from the distillery's underground spring. In addition, Edrington estimates as much as 95 percent of the distillery's energy needs will come from sustainable sources, with an on-site biomass energy conversion plant and power generated from the Rothes Distillers cooperative in Glenrothes. That facility takes spent grains products from area distilleries and burns it along with wood chips to generate electricity.
Links: The Macallan