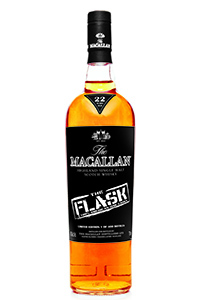 Flasks have become less popular since aviation security officials worldwide started limiting the carry-on liquids for airline passengers, but if the day comes when those rules are relaxed, The Macallan and Oakley have teamed up on a flask that might just survive anything the TSA can dish out.  The inner flask is made of food-grade steel wrapped in carbon fiber composite, then encased in an aerospace-grade aluminum outer case with rubberized bottom and a funnel machined to screw into the threads of the mouthpiece for filling.
"The Macallan | The Flask" combines the armored flask with a bottle of the first-ever single cask release from The Macallan to be matured exclusively in an American Oak ex-sherry cask. The 22-year-old single malt is bottled at 43% ABV.
Edrington Group, which owns The Macallan, plans to make 400 sets of "The Macallan | The Flask" available at a suggested retail price of $1,500 each.  An additional 100 flasks will be available for sale through The Macallan's web site, and Edrington Director of Malts Ken Grier tells WhiskyCast the remaining 50 flasks will be given to various celebrities.
Links: The Macallan | Oakley