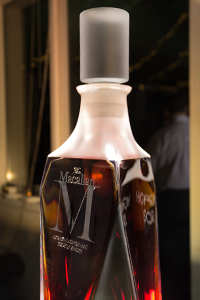 June 26, 2013 – To James Bond fans, "M" is the boss. To fans of numerology, "M" is the Roman numeral for 1,000. To fans of The Macallan, "M" is the latest collaboration between The Macallan and Lalique, with design assistance by noted creative director Fabien Baron of Baron & Baron.
Baron designed the Lalique crystal decanter for "M", which is a no-age-statement Macallan single malt matured in ex-Sherry casks ranging from 1940 to 1991 and blended by The Macallan's longtime whisky maker, Bob Dalgarno. 1,750 numbered decanters will be available globally, with a suggested price of $4,500 each. The decanter's design features six facets, corresponding to The Macallan's "Six Pillars" that make up the whisky's heritage. In addition, The Macallan plans to start making M an annual release, with a new blend to be created each year by Bob Dalgarno. The size of each year's release will depend on the number of casks that go into the blend.
Editor's note: This story was updated on December 5, 2013 with additional information.
Links: The Macallan