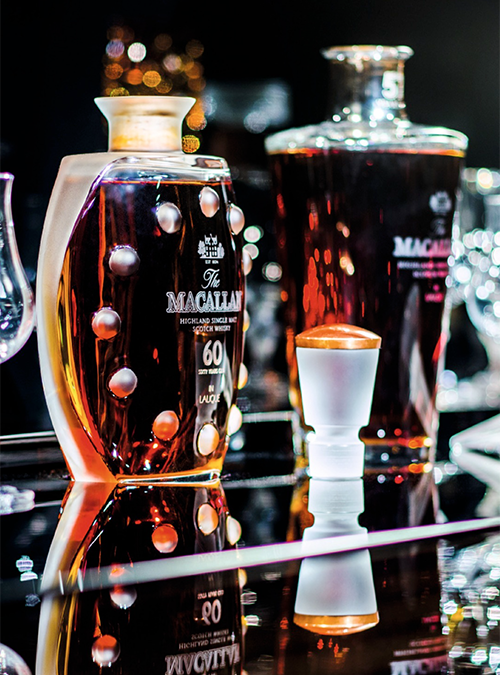 April 3, 2017 – Whisky collectors outdid themselves Sunday at Sotheby's in Hong Kong, as a rare complete set of The Macallan's Six Pillars series may well have set a new record for the highest price ever paid at auction for a collection. Bidding for what was termed "The Macallan in Lalique Legacy Collection had been estimated before the auction to go as high as $525,000 USD. However, the lure of the sole complete set available directly from the distillery, along with a bespoke ebony display cabinet and whisky glasses created by Lalique, sent bids far higher than expected. The final hammer price – including the buyer's premium – was HK$7,717,500 ($993,242 USD).
"We are absolutely thrilled about this," The Macallan's creative director Ken Grier said in a telephone interview from his home in Scotland. "It just goes to show again the value of Macallan at auction…people, investors in particular, are really buying into quality, strong investment-grade product," he said. Grier declined to identify the winning bidder, but noted that all of the net proceeds from the auction will go to local charities. "We have a bunch of charities in Hong Kong, and again, in keeping with the background of our company's charitable ideals and doing things with integrity, the money will go to charity," he said. The Macallan is owned by Edrington, which in turn is owned by the Robertson Charitable Trust.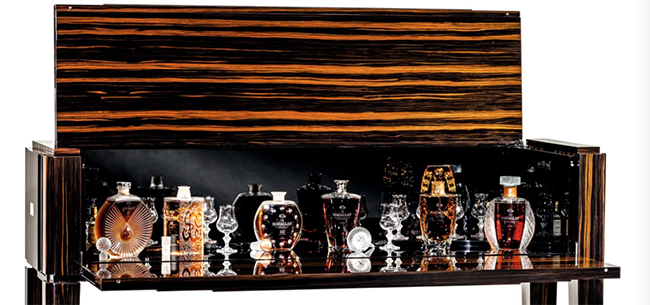 While the winning bid may well be a record for a collection, the official Guinness world record price for a single bottle of whisky sold at auction remains at $628,000 USD for The Macallan Imperial M Decanter. As with the Legacy Collection, that decanter was also sold at Sotheby's in Hong Kong during a January 2014 auction. Edrington executives have not yet decided whether to seek world record certification for the Legacy Collection auction result.
"We thought it was fitting to have a real crescendo to the series," Grier said. "Six beautiful (Lalique) decanters all describing the six pillars of The Macallan, the things that make us special and talk about the mastery of our craft. This does wind up that series, and we thought it was really fitting to have one official collection only, hence the value that it achieved."
In addition to the Legacy Collection, 80 other lots also featured whiskies from The Macallan and other distilleries. A 26-bottle collection of various Macallan expressions bottled between 1964 and 1987 sold for HK$673,750 ($86,712 USD), while a six-bottle collection of Macallans bottled between 1962 and 1967 brought a hammer price of HK$343,000 ($44,144 USD), both well above pre-auction estimates. A single bottle of The Macallan 65 Year old in Lalique VI – the final release in the Six Pillars series – had been estimated to bring a high bid of up to HK$300,000, but went for HK$551,250 ($70,946 USD).
The top performer from distilleries other than The Macallan was a bottle of The Dalmore Candela Aged 50 Years, which went for nearly four times its pre-auction estimate at a hammer price of HK$588,000 ($75,676 USD). That was more than double the price for the runner-up, a bottle of Gordon & MacPhail's Generations Mortlach 70 Year Old from 1938, which brought a high bid of HK$208,250 ($26,802 USD).
Editor's note: All prices quoted include a buyer's premium. Conversions from Hong Kong dollars to US dollars via Bloomberg Generic Composite Rate as of April 3, 2017.
Links: The Macallan | Sotheby's