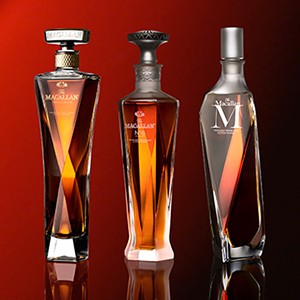 February 19, 2015 – Following up on the 2013 launch of The Macallan M, Edrington has expanded what will now be known as The 1824 Masters Series with two new luxury expressions.
The Macallan Reflexion is a no-age-statement single malt matured in first-fill hogshead casks, and will sell for a recommended retail price of £900 ($1,385 USD) per bottle. The Macallan No. 6 also carries no age statement, and the name is a reflection of the brand's "Six Pillars" heritage. The whisky was matured in Sherry casks, and is bottled in a Lalique-crafted decanter similar to the one used for The Macallan M. It will carry a price tag of £2,800 ($4,317 USD). Both follow last fall's introduction of The Macallan Rare Cask, and were initially announced at that time with releases set for now.
This makes the third Macallan range branded with 1824, the year the distillery opened across the River Spey from Craigellachie. The 1824 Series is the mainstream range available in many markets around the world, with the Amber, Ruby, Siena, and Gold expressions. The 1824 Collection is the travel retail range, with the Whisky Maker's Edition, Select Oak, Estate Reserve, Oscuro, and the Limited Edition MMXII.
The new expressions are initially available at whisky specialist retailers in the UK and other markets.
Links: The Macallan